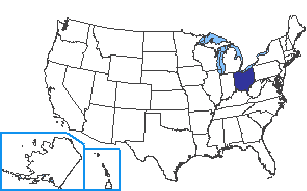 Capital: Columbus

Population: 11,689,442 (Source: 2012 U.S. Census)

Major Cities: Columbus, Cleveland, Cincinnati, Toledo, Akron, Dayton

Borders: Michigan, Indiana, Kentucky, West Virginia, Pennsylvania

Gross Domestic Product (GDP): $509,393 million (2012 U.S. Department of Commerce)

Key Industries:
Agriculture including soybeans, corn, grains, hogs, and cattle
Plastics, rubber, electrical equipment, appliances, automobiles, and steel

How Ohio got its name: The name Ohio comes from a Native American Iroquois word meaning great river.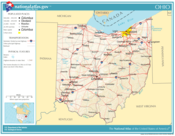 Click on map for larger view
Ohio State Symbols
State Nickname: Buckeye State

State Slogan: So Much to Discover; Birthplace of Aviation (on its license plate); (formerly) The Heart of It All

State Motto: With God all things are possible

State flower: Scarlet Carnation

State bird: Cardinal

State fish: none (unofficially it's the Walleye)

State tree: The Buckeye

State mammal: White-tailed deer

State foods: Tomato Juice


Becoming a State
Date admitted: Tuesday, March 1, 1803

Number admitted: 17

Prior Name: Northwest Territory

Postal Abbreviation: OH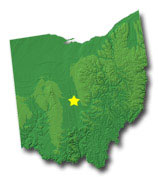 The Geography of Ohio
Total Size: 40,948 sq. miles (source: 2003 Census)

Geographical Low Point: Ohio River at 455 feet, located in the county/subdivision of Hamilton (source: U.S. Geological Survey)

Geographical High Point: Campbell Hill at 1,550 feet, located in the county/subdivision of Logan (source: U.S. Geological Survey)

Central Point: Located in Delaware County approx. 25 miles north-northeast of Columbus (source: U.S. Geological Survey)

Counties: 88 (source: National Association of Counties)

Bodies of Water: Lake Erie, Grand Lake, Ohio River, Cuyahoga River, Scioto River, Miami River


Famous People
Neil Armstrong - Astronaut and first man on the Moon
Halle Berry - Actress
George Custer - General who fought at Custer's Last Stand
Thomas Edison - Inventor of many inventions including the light bulb
James Garfield - The 20th President of the United States
Ulysses S. Grant - Civil War general and 18th President of the United States
Warren G. Harding - The 29th President of the United States
Benjamin Harrison - The 23rd President of the United States
Rutherford B. Hayes - The 19th President of the United States
LeBron James - Professional basketball player
William McKinley - The 25th president of the United States
Paul Newman - Actor
Jack Nicklaus - Professional golfer
Pontiac - Famous Native American chief
Pete Rose - Professional baseball player
Steven Spielberg - Movie director
William Howard Taft - The 27th President of the United States and Supreme Court Justice
Orville Wright - Inventor of the airplane
Fun Facts
The first traffic light was in Cleveland, Ohio.
Akron is considered the rubber capital of the world.
Ohio is home to the Pro Football Hall of Fame and the Rock and Roll Hall of Fame.
Seven presidents of the United States were born in Ohio. They are Ulysses S. Grant, Rutherford Hayes, James Garfield, Benjamin Harrison, William McKinley, William Howard Taft, and Warren Harding.
The name Ohio probably comes from an Iroquois Indian word that means 'great river'.
The nation's first ambulance service was started in Cincinnati in 1865. Akron was the first city to use police cars in 1899.
Life Savers candy was invented by Clarence Crane in 1912.
Neil Armstrong, the first man to walk on the moon, came from Ohio.
The state flag is pennant design, rather than a rectangle like all the other state flags.
The first capital city of Ohio was Chillicothe.
Professional Sports Teams
Cincinnati Reds - MLB (baseball)
Cleveland Indians - MLB (baseball)
Cincinnati Bengals - NFL (football)
Cleveland Browns - NFL (football)
Cleveland Cavaliers - NBA (basketball)
Columbus Blue Jackets - NHL (hockey)
Columbus Crew - MLS (soccer)


Geography >> US States>> Ohio History

For state symbols, flag, maps, geography, and fun facts: