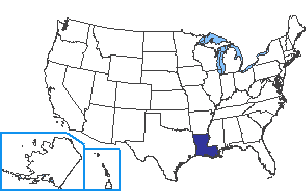 Capital: Baton Rouge

Population: 4,659,978 (Source: 2012 U.S. Census)

Major Cities: New Orleans, Baton Rouge, Shreveport, Metairie, Lafayette, Lake Charles

Borders: Mississippi, Arkansas, Texas, Gulf of Mexico

Gross Domestic Product (GDP): $243,264 million (2012 U.S. Department of Commerce)

Key Industries:
Agriculture including cotton, soybeans, cattle, sugarcane, dairy products, and seafood
Tourism, oil and petroleum mining, food processing, paper products, coal mining, shipping, and chemicals

How Louisiana got its name: Louisiana was named after Louis XIV, the King of France.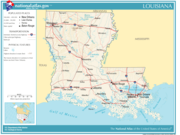 Click on map for larger view
Louisiana State Symbols
State Nickname: Pelican State

State Slogan: Fall in love with Louisiana all over again [1]; Come as you are. Leave Different.; Sportsman's Paradise (on its license plate)

State Motto: Union, justice, and confidence

State flower: Magnolia

State bird: Eastern Brown Pelican

State fish: White Perch, sac-au-lait (fresh water), Spotted sea trout (salt water)

State tree: Baldcypress

State mammal: Black bear, Catahoula Leopard Dog

State foods: Milk, Strawberries, Sweet Potato, Natchitoches Meat Pie, Mayhaw Jelly


Becoming a State
Date admitted: Thursday, April 30, 1812

Number admitted: 18

Prior Name: Orleans Territory

Postal Abbreviation: LA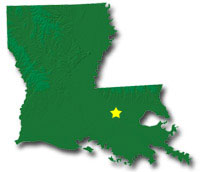 The Geography of Louisiana
Total Size: 43,562 sq. miles (source: 2003 Census)

Geographical Low Point: New Orleans at -8 feet, located in the county/subdivision of Orleans (source: U.S. Geological Survey)

Geographical High Point: Driskill Mtn. at 535 feet, located in the county/subdivision of Bienville (source: U.S. Geological Survey)

Central Point: Located in Avoyelles County approx. 3 miles southeast of Marksville (source: U.S. Geological Survey)

Counties: 64 Parishes (source: National Association of Counties)

Bodies of Water: Gulf of Mexico, Atchafalaya Bay, Mississippi River, Red River, Ouachita River, Lake Pontchartrain, Lake Maurepas, Grand Lake, White Lake, Calcasieu Lake


Famous People
Louis Armstrong - Trumpet player
P.T. Beauregard - Confederate general during the Civil War
Terry Bradshaw - Professional football player
Truman Capote - Author
Ellen Degeneres - Comedian and talk show host
Mahalia Jackson - Singer and civil rights activist
Randy Jackson - Music producer and American Idol judge
Karl Malone - Professional basketball player
Lil Wayne - Rapper
Peyton Manning - Professional football player
Tim McGraw - Country music singer
Tyler Perry - Actor and filmmaker
Britney Spears - Singer
Reese Witherspoon - Actress
Andrew Young Jr. - Civil rights activist and politician
Fun Facts
Louisiana is named after King Louis XIV.
The Lake Pontchartrain Causeway is 24 miles long, making it the longest bridge over water in the world.
Gueydan, Louisiana is called the 'Duck Capital of America'. It MUST be a cool place!
New Orleans is known as the Jazz Capital of the world.
Louisiana was part of the Louisiana Territory that the US bought from France in 1803 for $15 million.
The pelican almost became extinct in the 'Pelican State' due to pollution. It is back now due to conservation efforts.
The official state insect is the honey bee.
In New Orleans, fire engines must stop at a red light even in the case of emergency.
Louisiana doesn't have counties like all other US states. It has parishes instead.
The New Orleans Saints were one of the worst NFL footballs teams since they were franchised in 1967. This changed in 2009 when they won the Super Bowl.
Professional Sports Teams
New Orleans Pelicans - NBA (basketball)
New Orleans Saints - NFL (football)


Geography >> US States>> Louisiana History

For state symbols, flag, maps, geography, and fun facts: