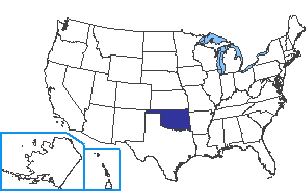 Capital: Oklahoma City

Population: 3,943,079 (Source: 2012 U.S. Census)

Major Cities: Oklahoma City, Tulsa, Norman, Broken Arrow, Lawton, Edmond

Borders: Texas, New Mexico, Colorado, Kansas, Missouri, Arkansas

Gross Domestic Product (GDP): $160,953 million (2012 U.S. Department of Commerce)

Key Industries:
Agriculture including grains, cattle, dairy products, and cotton
Natural gas, oil, petroleum products, machinery, aircraft parts, electronic equipment, and food products

How Oklahoma got its name: The name Oklahoma comes from two words in the Choctaw Indian language: okla, which means people, and humma, which means red.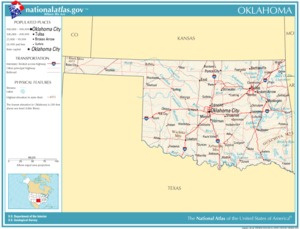 Click on map for larger view
Oklahoma State Symbols
State Nickname: Sooner State

State Slogan: Native America; also on its license plate

State Motto: Labor omnia vincit (Labor conquers all things)

State flower: Oklahoma Rose

State bird: Scissor-tailed Flycatcher

State fish: White bass

State tree: Redbud

State mammal: Bison, Common Raccoon

State foods: Barbecued Pork, Sausage, Biscuits and Gravy, Grits, Fried Okra, Pecan Pie


Becoming a State
Date admitted: Saturday, November 16, 1907

Number admitted: 46

Prior Name: Oklahoma Territory & Indian Territory

Postal Abbreviation: OK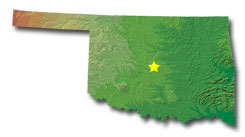 The Geography of Oklahoma
Total Size: 68,667 sq. miles (source: 2003 Census)

Geographical Low Point: Little River at 289 feet, located in the county/subdivision of McCurtain (source: U.S. Geological Survey)

Geographical High Point: Black Mesa at 4,973 feet, located in the county/subdivision of Cimarron (source: U.S. Geological Survey)

Central Point: Located in Oklahoma County approx. 8 miles north of Oklahoma City (source: U.S. Geological Survey)

Counties: 77 (source: National Association of Counties)

Bodies of Water: Lake Texoma, Eufaula Lake, Grand Lake of the Cherokees, Red River, Arkansas River, Canadian River


Famous People
Johnny Bench - Professional baseball player
Vince Gill - Country music singer and songwriter
Ron Howard - Actor and movie director
Toby Keith - Country music singer and songwriter
Mickey Mantle - Professional baseball player
Reba McEntire - Country music singer
Dr. Phil McGraw - Talk show host
Chuck Norris - Actor and martial arts expert
Brad Pitt - Actor
Maria Tallchief - Ballet dancer
Jim Thorpe - Athlete and Olympic medalist
Carrie Underwood - Singer and American Idol winner
Sam Walton - Founder of Walmart stores
Fun Facts
Oklahoma has the largest population of Native Americans of any state.
The name Oklahoma means 'red people'.
Cimarron County in Oklahoma borders 5 states. More states than any other US county.
The parking meter was invented in Oklahoma.
The name Sooner State comes from people who tried to sneak into Oklahoma and make land claims 'sooner' than they were allowed.
Oklahoma! Is the name of a famous 1943 musical.
Many American Indian tribes were forced to move to Oklahoma including the Cherokee, Seminole, Choctaw, Chickasaw, and Creek peoples.
The first shopping cart was invented by Sylvan Goldman, owner of the Piggly Wiggly supermarket chain.
The National Cowboy Hall of Fame and Museum is located in Oklahoma City.
The tribal capital of the Cherokee Nation is located in Tahlequah.
Professional Sports Teams
Oklahoma City Thunder - NBA (basketball)
Tulsa Shock - WNBA (basketball)


Geography >> US States>> Oklahoma History

For state symbols, flag, maps, geography, and fun facts: