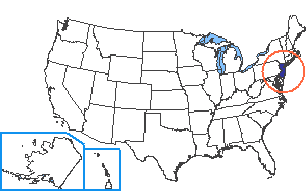 Capital: Trenton

Population: 8,908,520 (Source: 2012 U.S. Census)

Major Cities: Newark, Jersey City, Paterson, Elizabeth, Edison, Woodbridge

Borders: Delaware, Pennsylvania, New York, Atlantic Ocean

Gross Domestic Product (GDP): $508,003 million (2012 U.S. Department of Commerce)

Key Industries:
Agriculture including potatoes, peaches, and fishing
Pharmaceuticals, finance, chemicals, telecommunications, and tourism

How New Jersey got its name: New Jersey was named after the British island of Jersey in the English Channel off the coast of Normandy. The name was chosen in honor of one of its founders Sir George Carteret who was from Jersey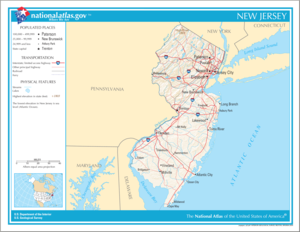 Click on map for larger view
New Jersey State Symbols
State Nickname: Garden State

State Slogan: Come See For Yourself

State Motto: Liberty and prosperity

State flower: Violet

State bird: Eastern Goldfinch

State fish: Brook trout

State tree: Red Oak

State mammal: Horse

State foods: Highbush Blueberry


Becoming a State
Date admitted: December 18, 1787

Number admitted: 3

Prior Name: Province of New Jersey, then sovereign state in Confederation

Postal Abbreviation: NJ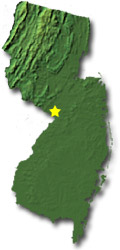 The Geography of New Jersey
Total Size: 7,417 sq. miles (source: 2003 Census)

Geographical Low Point: Atlantic Ocean at Sea Level (source: U.S. Geological Survey)

Geographical High Point: High Point at 1,803 feet, located in the county/subdivision of Sussex (source: U.S. Geological Survey)

Central Point: Located in Mercer County approx. 5 miles southeast of Trenton (source: U.S. Geological Survey)

Counties: 21 (source: National Association of Counties)

Bodies of Water: Atlantic Ocean, Delaware Bay, Hudson River, Delaware River


Famous People
Buzz Aldrin - Astronaut
Judy Blume - Author of young adult books
Grover Cleveland - The 22nd and 24th President of the United States
David Copperfield - Magician
Michael Douglas - Actor
Thomas Edison - Inventor who had his famous lab in Menlo Park, New Jersey
Whitney Houston - Singer
Derek Jeter - Baseball player for the New York Yankees
Jon Bon Jovi - Rock singer for the band Bon Jovi
Jack Nicholson - Actor
Shaquille O'Neal - Professional basketball player
Queen Latifah - Actress and rapper
Bill Parcells - NFL football coach
Frank Sinatra - Singer and actor
Bruce Springsteen - Rock singer and songwriter
Meryl Streep - Actress
Dave Thomas - Founder of Wendy's fast-food restaurant
Fun Facts
Over 100 battles have been fought on New Jersey soil.
New Jersey has the greatest population density of any state, making it the most crowded.
New Jersey is a state of inventions. The FM Radio, the light bulb, the motion picture camera, and transistors were all invented in New Jersey.
The Atlantic City Boardwalk was the world's first boardwalk.
New Jersey is named after the Isle of Jersey, an island located off the coast of Normandy, France.
The streets on the game of Monopoly are named after streets in Atlantic City.
The first professional basketball game was played in Trenton in 1896 between the Trenton YMCA and the Brooklyn YMCA. Players were paid $15 each.
President Grover Cleveland was born in New Jersey. Other famous people from New Jersey include Bruce Springsteen, Judy Blume, Bon Jovi, and Frank Sinatra.
Other nicknames include the Clam State and the Diner Capital of the World.
Professional Sports Teams
New Jersey Devils - NHL (hockey)
New York Giants - NFL (football)
New York Jets - NFL (football)
New York Red Bulls - MLS (soccer)


Geography >> US States>> New Jersey History

For state symbols, flag, maps, geography, and fun facts: