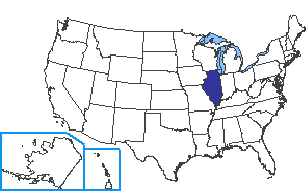 Capital: Springfield

Population: 12,741,080 (Source: 2012 U.S. Census)

Major Cities: Chicago, Aurora, Rockford, Joliet, Naperville, Springfield, Peoria

Borders: Missouri, Iowa, Wisconsin, Indiana, Kentucky

Gross Domestic Product (GDP): $695,238 million (2012 U.S. Department of Commerce)

Key Industries:
Agriculture including corn, soybeans, wheat, cattle, and dairy products
Chemicals, machinery, food processing, electronic products, publishing, and tourism

How Illinois got its name: The name Illinois is a French word that was used to describe the local Native Americans.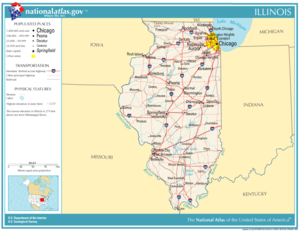 Click on map for larger view
Illinois State Symbols
State Nickname: Prairie State

State Slogan: Mile After Magnificent Mile; Right Here. Right Now.

State Motto: State sovereignty, national union

State flower: Violet

State bird: Cardinal aka Northern Cardinal

State fish: Bluegill

State tree: White Oak

State mammal: White-tailed deer

State foods: Popcorn


Becoming a State
Date admitted: Thursday, December 3, 1818

Number admitted: 21

Prior Name: Illinois Territory

Postal Abbreviation: IL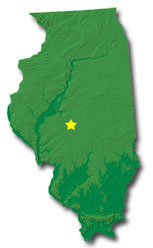 The Geography of Illinois
Total Size: 55,584 sq. miles (source: 2003 Census)

Geographical Low Point: Mississippi River at 279 feet, located in the county/subdivision of Alexander (source: U.S. Geological Survey)

Geographical High Point: Charles Mound at 1,235 feet, located in the county/subdivision of Jo Daviess (source: U.S. Geological Survey)

Central Point: Located in Logan County approx. 28 miles northeast of Springfield (source: U.S. Geological Survey)

Counties: 102 (source: National Association of Counties)

Bodies of Water: Lake Michigan, Rend Lake, Illinois River, Mississippi River, Ohio River, Wabash River


Famous People
Hillary Clinton - First Lady and U.S. Secretary of State
Cindy Crawford - Model
Michael Crichton - Author and movie producer
Walt Disney - Founder of Walt Disney Company
Wyatt Earp - Lawman of the wild west
Enrico Fermi - Nuclear scientist
Harrison Ford - Actor
Ernest Hemingway - Author
Jackie Joyner-Kersee - Track and field athlete
Abraham Lincoln - The 16th President of the United States and Illinois congressman
Bill Murray - Actor and comedian
Michelle Obama - First Lady of the U.S.
Ronald Reagan - The 40th President of the United States
Derrick Rose - Professional basketball player
Eddie Vedder - Lead singer of Pearl Jam
Fun Facts
The Willis Tower (Sears Tower) in Chicago, Illinois is the tallest building in the United States.
Chicago is the third largest city in the United States.
The headquarters of McDonald's is located in Oak Brook, Illinois.
The state dance of Illinois is Square Dancing.
On Saint Patrick's Day the Chicago River is dyed green.
Famous people born in Illinois include Walt Disney, Harrison Ford, Ernest Hemmingway, and President Ronald Reagan.
Illinois was the first state to abolish slavery by ratifying the thirteenth amendment.
There are over 6,000 units of government (for example city, township, county, etc.) in the State of Illinois.
The world's largest public library is the Chicago Public Library. It has over 2 million books!
Abraham Lincoln served in the Illinois State Legislature.
Professional Sports Teams
Chicago Bears - NFL (football)
Chicago Blackhawks - NHL (hockey)
Chicago Bulls - NBA (basketball)
Chicago Cubs - MLB (baseball)
Chicago Fire - MLS (soccer)
Chicago White Sox - MLB (baseball)


Geography >> US States>> Illinois History

For state symbols, flag, maps, geography, and fun facts: