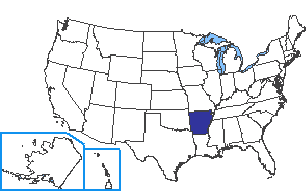 Capital: Little Rock

Population: 3,013,825 (Source: 2012 U.S. Census)

Major Cities: Little Rock, Fort Smith, Fayetteville, Springdale, Jonesboro

Borders: Arkansas borders Louisiana, Texas, Oklahoma, Missouri, Mississippi, and Tennessee

Gross Domestic Product (GDP): 109,557 million (2012 U.S. Department of Commerce)

Key Industries:
Agriculture including poultry, soybeans, cattle, rice, cotton, and hogs
Food processing, metal products, machinery, natural gas mining, and paper products

How Arkansas got its name: The name Arkansas comes from the Native American Quapaw word akakaze which means land of the downriver people.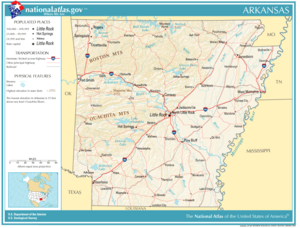 Click on map for larger view
Arkansas State Symbols
State Nickname: Natural State

State Slogan: The Natural State

State Motto: Regnat populus (The people rule)

State flower: Apple blossom

State bird: Mockingbird aka Northern Mockingbird

State fish: none

State tree: Pine Tree

State mammal: White-tailed deer

State foods: Tomato, Milk


Becoming a State
Date admitted: Wednesday, June 15, 1836

Number admitted: 25

Prior Name: Arkansas Territory

Postal Abbreviation: AR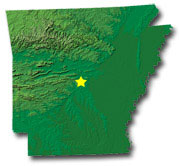 The Geography of Arkansas
Total Size: 52,068 sq. miles (source: 2003 Census)

Geographical Low Point: Ouachita River at 55 feet, located in the county/subdivision of Ashley-Union (source: U.S. Geological Survey)

Geographical High Point: Magazine Mtn. at 2,753 feet, located in the county/subdivision of Logan (source: U.S. Geological Survey)

Central Point: Located in Pulaski County approx. 12 miles northwest of Little Rock (source: U.S. Geological Survey)

Counties: 75 (source: National Association of Counties)

Bodies of Water: Mississippi River, Arkansas River, White River, St. Francis River, Bull Shoals Lake, Lake Ouachita, Millwood Lake, Lake Conway


Famous People
Kris Allen - Winner of American Idol singing contest
Maya Angelou - Famous poet
Helen Gurley Brown - Publisher and editor
Bear Bryant - College football coach
Johnny Cash - Singer and songwriter
Bill Clinton - President of the United States who was once governor of Arkansas
Jerry Jones - Owner of the Dallas Cowboys
Douglas MacArthur - U.S. General during World War II
Scottie Pippen - Professional basketball player for the Chicago Bulls
Fun Facts
The state flag has 25 stars on it to symbolize Arkansas becoming the 25th state.
Arkansas is the only US State that produces diamonds.
The state is known for its beautiful lakes, rivers, and hot springs. It has over 600,000 acres of lakes.
The Arkansas state musical instrument is the fiddle.
The state ranks number 1 in rice and poultry production.
The headquarters of Wal-Mart is in Bentonville. It was founded by Sam Walton.
It is pronounced 'Arkansaw'. It is against the law to say it wrong.
President Bill Clinton was born in Hope, Arkansas. Other famous people from Arkansas include General Douglas MacArthur, author John Grisham, singer Johnny Cash, and football coach Paul Bear Bryant.
In 1985, milk was made the state beverage.
Professional Sports Teams
Arkansas has no major professional sports teams.

Geography >> US States>> Arkansas History

For state symbols, flag, maps, geography, and fun facts: