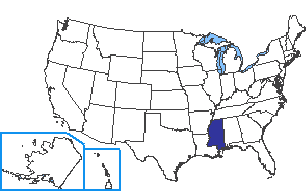 Capital: Jackson

Population: 2,986,530 (Source: 2012 U.S. Census)

Major Cities: Jackson, Gulfport, Hattiesburg, Southaven, Biloxi

Borders: Alabama, Arkansas, Louisiana, Tennessee, and the Gulf of Mexico

Gross Domestic Product (GDP): $101,490 million (2012 U.S. Department of Commerce)

Key Industries:
Agriculture including cotton, soybeans, corn, milk, and catfish
Oil, textiles, and transportation equipment

How Mississippi got its name: Mississippi comes from a Native American word meaning great river.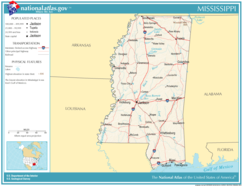 Click on map for larger view
Mississippi State Symbols
State Nickname: Magnolia State

State Slogan: Feels Like Coming Home, 'The South's Warmest Welcome'

State Motto: Virtute et armis (By valor and arms)

State flower: Magnolia

State bird: Mockingbird

State fish: Largemouth bass

State tree: Magnolia

State mammal: Red fox, White-tailed deer

State foods: Milk


Becoming a State
Date admitted: Wednesday, December 10, 1817

Number admitted: 20

Prior Name: Mississippi Territory

Postal Abbreviation: MS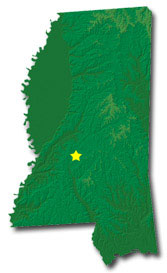 The Geography of Mississippi
Total Size: 46,907 sq. miles (source: 2003 Census)

Geographical Low Point: Gulf of Mexico at Sea Level (source: U.S. Geological Survey)

Geographical High Point: Woodall Mtn. at 806 feet, located in the county/subdivision of Tishomingo (source: U.S. Geological Survey)

Central Point: Located in Leake County approx. 9 miles west-northwest of Carthage (source: U.S. Geological Survey)

Counties: 82 (source: National Association of Counties)

Bodies of Water: Yazoo River, Mississippi River, Pearl River, Gulf of Mexico, Sardis Lake, Grenada Lake, and the Ross Barnett Reservoir.


Famous People
Jimmy Buffett - Singer and songwriter
Bo Diddley - Singer, songwriter, and guitarist
William Faulkner - Nobel Prize winning author who wrote The Sound and the Fury
Brett Favre - Pro football quarterback
Jim Henson - Filmmaker and creator of the Muppets
James Earl Jones - Actor
Faith Hill - Country music singer
B.B. King - Singer, songwriter, and guitarist
Walter Payton - Pro football running back
Elvis Presley - Singer called the 'King of Rock and Roll'
Hiram Revels - Mississippi representative who was the first African-American U.S. Senator
Tennessee Williams - Playwright who wrote A Streetcar Named Desire and Cat on a Hot Tin Roof.
Ida B. Wells- Journalist and civil rights activist
Oprah Winfrey - Talk show host
Fun Facts
Mississippi means 'great river' in the Algonquian language.
Square Dancing is the Mississippi State Dance.
The first woman federal judge was Burnita Matthews of Mississippi.
You can visit the birthplace of Elvis Presley in Tupelo, Mississippi.
Schoolchildren voted the magnolia to become the state flower in 1900 and the state tree in 1935.
Root Beer was invented in 1898 in Biloxi.
The first human lung transplant and heart transplant were performed at the University of Mississippi Medical Center.
The cotton capital of the world is Greenwood, Mississippi.
There are more tree farms here than any other state. There are also more churches per capita that any other state.
The longest man-made beach in the world is on the Mississippi Gulf Coast.
Professional Sports Teams
There are no major professional sports teams in Mississippi.

Geography >> US States>> Mississippi History

For state symbols, flag, maps, geography, and fun facts: