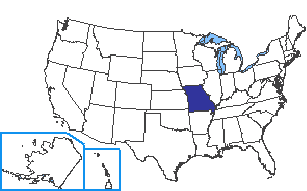 Capital: Jefferson City

Population: 6,126,452 (Source: 2012 U.S. Census)

Major Cities: Kansas City, St. Louis, Springfield, Independence, Columbia, Lee's Summit

Borders: Kansas, Nebraska, Iowa, Illinois, Kentucky, Tennessee, Arkansas, Oklahoma

Gross Domestic Product (GDP): $258,832 million (2012 U.S. Department of Commerce)

Key Industries:
Agriculture including cattle, dairy products, corn, hay, soybeans, chickens, and eggs
Mining including limestone, coal, and lead
Transportation equipment, chemicals, food processing, aerospace, banking, and tourism

How Missouri got its name: Missouri comes from a Native American word that means big canoe river.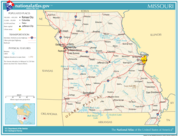 Click on map for larger view
Missouri State Symbols
State Nickname: Show Me State

State Slogan: Where the Rivers Run

State Motto: Salus populi suprema lex esto (The welfare of the people shall be the supreme law)

State flower: Hawthorn

State bird: Eastern Bluebird

State fish: Paddlefish (state aquatic animal), Catfish (state fish)

State tree: Flowering Dogwood

State mammal: Mule

State foods: North Cinthiana Grape


Becoming a State
Date admitted: Friday, August 10, 1821

Number admitted: 24

Prior Name: Missouri Territory

Postal Abbreviation: MO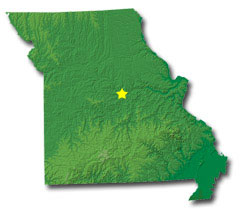 The Geography of Missouri
Total Size: 68,886 sq. miles (source: 2003 Census)

Geographical Low Point: St. Francis River at 230 feet, located in the county/subdivision of Dunklin (source: U.S. Geological Survey)

Geographical High Point: Taum Sauk Mtn. at 1,772 feet, located in the county/subdivision of Iron (source: U.S. Geological Survey)

Central Point: Located in Miller County approx. 20 miles southwest of Jefferson City (source: U.S. Geological Survey)

Counties: 115 (source: National Association of Counties)

Bodies of Water: Missouri River, Mississippi River, Osage River, Meramec Rivers, Lake of the Ozarks, Truman Reservoir, Bull Shoals Lake, Table Rock Lake


Famous People
Maya Angelou - Poet
Josephine Baker - Singer, dancer, and civil rights activist
Chuck Berry - Singer and guitarist
Omar Bradley - WWII general
George Washington Carver - Scientist and inventor
Sheryl Crow - Singer
Edwin Hubble - Astronomer
Jesse James - Notorious criminal
Kevin Kline - Actor
Rush Limbaugh - Talk show host
J.C. Penney - Founder of the Penney's stores
Harry S. Truman - The 33rd President of the United States
Mark Twain - Author who wrote Tom Sawyer and The Adventures of Huckleberry Finn
Dick van Dyke - Actor and comedian
Tom Watson - Professional Golfer
Fun Facts
Missouri was the eastern starting point for the Pony Express.
Branson, Missouri is famous for its country music shows.
The Gateway Arch in St. Louis has an elevator in it that goes to the top of the 630 foot arch.
Missouri has thousands of caves earning it the nickname of the 'Cave State'.
The ice cream cone was invented at the World's Fair in St. Louis when an ice cream vendor ran out of cups and tried to use waffles instead.
The first successful parachute jump from an airplane was made in St. Louis in 1912 by Captain Albert Berry. Iced tea was also invented at the World's Fair.
Missouri is bordered by eight states.
The tallest man in history, Robert Wadlow, lived here. He was 8 feet 11 inches tall.
President Harry S. Truman was born in Missouri. Other famous people born here include George Washington Carver, Laura Ingalls Wilder, Mark Twain, and Jesse James.
The state was named after the Native American tribe the Missouri. It meant 'town of canoes'.
Professional Sports Teams
Kansas City Chiefs - NFL (football)
Kansas City Royals - MLB (baseball)
St. Louis Blues - NHL (hockey)
St. Louis Cardinals - MLB (baseball)
St. Louis Rams - NFL (football)


Geography >> US States>> Missouri History

For state symbols, flag, maps, geography, and fun facts: