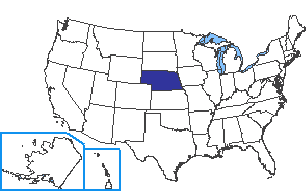 Capital: Lincoln

Population: 1,929,268 (Source: 2012 U.S. Census)

Major Cities: Omaha, Lincoln, Bellevue, Grand Island, Kearney, Fremont

Borders: Iowa, South Dakota, Wyoming, Colorado, Kansas, Missouri

Gross Domestic Product (GDP): $99,557 million (2012 U.S. Department of Commerce)

Key Industries:
Agriculture including corn, soybeans, wheat, cattle, and pigs
Food processing, meatpacking, freight transportation, insurance, and machinery

How Nebraska got its name: Nebraska comes from the name the Oto Indians gave to the Platte River. It means flat water.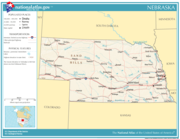 Click on map for larger view
Nebraska State Symbols
State Nickname: Cornhusker State

State Slogan: (formerly) The Good Life; Possibilities...Endless

State Motto: Equality before the law

State flower: Goldenrod

State bird: Western Meadowlark

State fish: Channel catfish

State tree: Eastern Cottonwood

State mammal: White-tailed deer

State foods: NA


Becoming a State
Date admitted: Friday, March 1, 1867

Number admitted: 37

Prior Name: Nebraska Territory

Postal Abbreviation: NE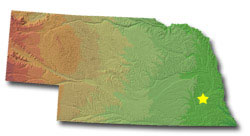 The Geography of Nebraska
Total Size: 76,872 sq. miles (source: 2003 Census)

Geographical Low Point: Missouri River at 840 feet, located in the county/subdivision of Richardson (source: U.S. Geological Survey)

Geographical High Point: Panorama Point at 5,424 feet, located in the county/subdivision of Kimball (source: U.S. Geological Survey)

Central Point: Located in Custer County approx. 10 miles northwest of Broken Bow (source: U.S. Geological Survey)

Counties: 93 (source: National Association of Counties)

Bodies of Water: Platte River, Missouri River, Niobrara River, Republican River, Lake McConaughy, Harlan County Lake


Famous People
Fred Astaire - Dancer and actor
Marlon Brando - Actor
Warren Buffett - Famous investor and entrepreneur
Dick Cheney - Vice President of the United States
Red Cloud - War leader of the Sioux Nation
Gerald Ford - The 38th President of the United States
Larry the Cable Guy - Comedian
Andy Roddick - Professional tennis player
Nicholas Sparks - Author (The Notebook, Safe Haven)
Hilary Swank - Actress
Malcolm X - Civil rights activist
Fun Facts
Kool-Aid was invented by Edward Perkins in Hastings, Nebraska.
Nebraska is said to have more miles of river than any other state.
Boys Town is located in Omaha, Nebraska.
The State Song of Nebraska is 'Beautiful Nebraska'.
It is sometimes called the Tree Planter's State. This is because Arbor Day, a day when trees are planted throughout the country, started here in 1872.
Spam, the food, is produced in Freemont, Nebraska.
It is the only state that has a single house legislature.
The world's largest woolly mammoth fossil was found in Lincoln County.
The name Nebraska comes from an American Indian name meaning 'flat water'.
President Gerald Ford was born in Omaha. Other famous people from Nebraska include Fred Astaire, Marlon Brando, Andy Roddick, and Warren Buffett.
Professional Sports Teams
Nebraska does not have any major professional sports teams.

Geography >> US States>> Nebraska History

For state symbols, flag, maps, geography, and fun facts: