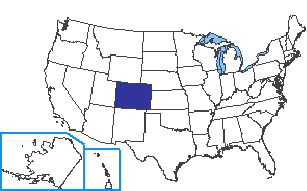 Capital: Denver

Population: 5,695,564 (Source: 2012 U.S. Census)

Major Cities: Denver, Colorado Springs, Aurora, Fort Collins, Lakewood, Thornton

Borders: Kansas, Nebraska, Wyoming, Utah, Arizona, New Mexico, Oklahoma

Gross Domestic Product (GDP): $274,048 million (2012 U.S. Department of Commerce)

Key Industries:
Agriculture including dairy products, cattle, sheep, hogs, wheat, corn, apples, and hay
Scientific instruments, computers, food processing, leather products, and metal products

How Colorado got its name: Colorado comes from a Spanish word meaning red-colored. It is named for the red mud of the Colorado River.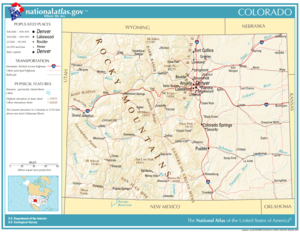 Click on map for larger view
Colorado State Symbols
State Nickname: Centennial State

State Slogan: Enter a Higher State; (formerly) Fresh Air and Fond Memories Served Daily

State Motto: Nil sine Numine (Nothing without Providence)

State flower: Rocky Mountain Columbine

State bird: Lark Bunting

State fish: Greenback cutthroat trout

State tree: Colorado Blue Spruce

State mammal: Rocky Mountain bighorn sheep

State foods: Cantaloupe


Becoming a State
Date admitted: Tuesday, August 1, 1876

Number admitted: 38

Prior Name: Colorado Territory

Postal Abbreviation: CO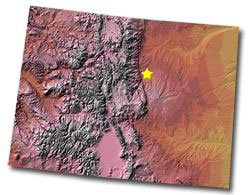 The Geography of Colorado
Total Size: 103,718 sq. miles (source: 2003 Census)

Geographical Low Point: Arikaree River at 3,315 feet, located in the county/subdivision of Yuma (source: U.S. Geological Survey)

Geographical High Point: Mt. Elbert at 14,433 feet, located in the county/subdivision of Lake (source: U.S. Geological Survey)

Central Point: Located in Park County approx. 30 miles northwest of Pikes Peak (source: U.S. Geological Survey)

Counties: 64 (source: National Association of Counties)

Bodies of Water: Colorado River, South Platte River, Arkansas River, Rio Grande River, San Juan River, Grand Lake, Navajo Lake, John Martin Reservoir, Blue Mesa Reservoir


Famous People
Max Aaron - Champion figure skater
Tim Allen - Comedian and actor
Kristin Davis - Actress
Jack Dempsey - Professional boxer
Douglas Fairbanks - Actor
Roy Halladay - Professional baseball player
John Kerry - Senator and Secretary of State
Ken Kesey - Author of One Flew Over the Cuckoo's Nest
Florence Sabin - Scientist
Byron White - Supreme Court justice
Fun Facts
Colorado is famous for the Rocky Mountains and great skiing.
The white stripe in the middle of the Colorado state flag represents the snow capped mountains.
The capital of Colorado, Denver, is almost exactly 1 mile above sea level. This is how it earned the nickname 'Mile High City'.
The famous Colorado mountain, Pike's Peak, is named after US Army Lieutenant Zebulon Pike. The view from Pike's Peak inspired Katherine Lee Bates to write the song 'America the Beautiful'.
Deer Trail was home to the world's first Rodeo in 1869.
The United States Air Force Academy is located in the city of Colorado Springs.
Over 30% of the land of Colorado is owned by the United States government.
The highest city in the United States is Leadville. It is 10,430 feet above sea level.
Professional Sports Teams
Colorado Avalanche - NHL (hockey)
Colorado Rapids - MLS (soccer)
Colorado Rockies - MLB (baseball)
Denver Broncos - NFL (football)
Denver Nuggets - NBA (basketball)


Geography >> US States>> Colorado History

For state symbols, flag, maps, geography, and fun facts: