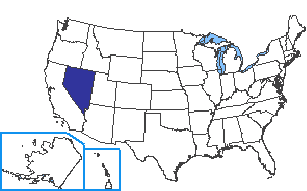 Capital: Carson City

Population: 3,034,392 (Source: 2012 U.S. Census)

Major Cities: Las Vegas, Henderson, Reno, Sunrise Manor, Paradise, Spring Valley

Borders: Oregon, Idaho, Utah, Arizona, California

Gross Domestic Product (GDP): $133,584 million (2012 U.S. Department of Commerce)

Key Industries:
Agriculture including cattle, dairy products, hay, and potatoes
Tourism, machinery, printing, electronic equipment, gold and silver mining

How Nevada got its name: The name Nevada comes from a Spanish word that means snow-covered.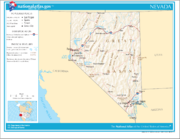 Click on map for larger view
Nevada State Symbols
State Nickname: Silver State

State Slogan: Wide Open

State Motto: All for Our Country

State flower: Sagebrush

State bird: Mountain Bluebird

State fish: Lahontan cutthroat trout

State tree: The Single-Leaf Pinon

State mammal: Desert bighorn sheep

State foods: NA


Becoming a State
Date admitted: Monday, October 31, 1864

Number admitted: 36

Prior Name: Nevada Territory

Postal Abbreviation: NV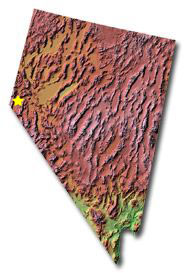 The Geography of Nevada
Total Size: 109,826 sq. miles (source: 2003 Census)

Geographical Low Point: Colorado River at 479 feet, located in the county/subdivision of Clark (source: U.S. Geological Survey)

Geographical High Point: Boundary Peak at 13,140 feet, located in the county/subdivision of Esmeralda (source: U.S. Geological Survey)

Central Point: Located in Lander County approx. 26 miles southeast of Austin (source: U.S. Geological Survey)

Counties: 17 (source: National Association of Counties)

Bodies of Water: Lake Tahoe, Pyramid Lake, Lake Mead, Humboldt River, Colorado River, Carson River


Famous People
Andre Agassi - Professional tennis player
Kurt and Kyle Bush - Race car drivers
Matthew Gray Gubler - Actor
Bryce Harper - Professional baseball player
Adam Hicks - Actor from Zeke and Luther
Steven Jackson - Football player
Julia Mancuso - Olympic gold medal skier
Pat Nixon - First Lady
Harry Reid - Senator and Senate majority leader
Kevin Rose - Founder of Digg
Fun Facts
Nevada means 'snowy'. Other names considered for the state included Washoe, Humboldt, and Esmeralda.
The Top Gun Flight School is located in Fallon, Nevada.
Area 51, the place famed for UFO cover-ups, is located in southern Nevada.
Nevada is one of three states with legalized gambling.
It is the driest state in the USA averaging only around 7 inches of rain each year.
The hard hat was invented for construction workers working on the Hoover Dam.
The International Camel Races are held in Virginia City each year.
Other nicknames for the state include The Sagebrush State, The Battle Born State, and The Silver State.
85% of Nevada is owned by the federal government.
The state produces more gold than any other state in America.
Professional Sports Teams
Las Vegas Raiders - Football (NFL)
Las Vegas Aces - Basketball (WNBA)
Vegas Golden Knights - Hockey (NHL)


Geography >> US States>> Nevada History

For state symbols, flag, maps, geography, and fun facts: