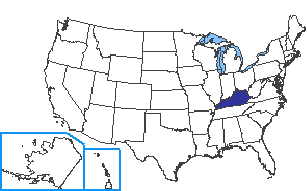 Capital: Frankfort

Population: 4,468,402 (Source: 2012 U.S. Census)

Major Cities: Louisville, Lexington, Bowling Green, Owensboro, Covington

Borders: Ohio, Indiana, Illinois, Missouri, Tennessee, West Virginia, Virginia

Gross Domestic Product (GDP): $173,466 million (2012 U.S. Department of Commerce)

Key Industries:
Agriculture including corn, tobacco, grains, cattle, and chickens
Coal mining, automobiles, horse breeding, energy production, and appliances

How Kentucky got its name: The name for Kentucky comes from a Native American Iroquois word 'Ken-tah-ten' meaning land of tomorrow.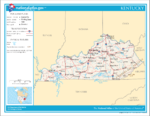 Click on map for larger view
Kentucky State Symbols
State Nickname: Bluegrass State

State Slogan: Unbridled Spirit; also on its license plate; (formerly) It's That Friendly; (formerly) Where Education Pays

State Motto: United we stand, divided we fall

State flower: Goldenrod

State bird: Kentucky Cardinal

State fish: Kentucky bass

State tree: Tulip Poplar

State mammal: Thoroughbred horse, Gray squirrel

State foods: Blackberry, Milk


Becoming a State
Date admitted: Friday, June 1, 1792

Number admitted: 15

Prior Name: Virginia

Postal Abbreviation: KY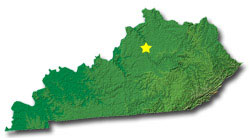 The Geography of Kentucky
Total Size: 39,728 sq. miles (source: 2003 Census)

Geographical Low Point: Mississippi River at 257 feet, located in the county/subdivision of Fulton (source: U.S. Geological Survey)

Geographical High Point: Black Mtn. at 4,145 feet, located in the county/subdivision of Harlan (source: U.S. Geological Survey)

Central Point: Located in Marion County approx. 3 miles north-northwest of Lebanon (source: U.S. Geological Survey)

Counties: 120 (source: National Association of Counties)

Bodies of Water: Ohio River, Mississippi River, Kentucky River, Tennessee River, Lake Cumberland, Kentucky Lake, Barkley Lake


Famous People
Muhammad Ali - Heavyweight champion boxer
Kit Carson - Explorer and frontiersman
George Clooney - Actor
Jefferson Davis - Leader of the Confederacy during the Civil War
Johnny Depp - Actor
Jennifer Lawrence - Actor
Abraham Lincoln - The 16th President of the United States
Loretta Lynn - Country singer and songwriter
Rajon Rondo - Professional basketball player
Diane Sawyer - News anchor
Fun Facts
The Kentucky Derby is one of the world's most famous horse races.
The United States Bullion Depository (where it keeps its gold) is in Fort Knox, Kentucky.
Kentucky Fried Chicken is based in Louisville, KY.
Mammoth Cave in Kentucky is the world's longest recorded cave system.
Daniel Boone was one of the original colonists to explore and settle in Kentucky.
Kentucky is one of three states, including Colorado and California, who claim to have invented the cheeseburger.
The most gold stored anywhere in the world is stored at Fort Knox.
The song 'Happy Birthday to You' was written by two sisters in Louisville.
The famous baseball bat, the Louisville Slugger, is made in Louisville, Kentucky.
President Abraham Lincoln was born in Kentucky. Jefferson Davis, President of the Confederacy, was also born here.
Professional Sports Teams
Kentucky has no major professional sports teams, but is home to the biggest American horse race in the Kentucky Derby. Also, the Cincinnati Bengals (NFL) and the Cincinnati Reds (MLB) play just across the northern border.

Geography >> US States>> Kentucky History

For state symbols, flag, maps, geography, and fun facts: