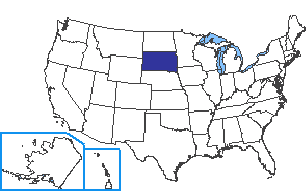 Capital: Pierre

Population: 882,235 (Source: 2012 U.S. Census)

Major Cities: Sioux Falls, Rapid City, Aberdeen, Brookings, Watertown

Borders: Nebraska, Iowa, Minnesota, North Dakota, Montana, Wyoming

Gross Domestic Product (GDP): $42,464 million (2012 U.S. Department of Commerce)

Key Industries:
Agriculture including corn, cattle, hogs, soybeans, and wheat
Finance, machinery, food products, tourism, and mining

How South Dakota got its name: The name Dakota comes from the Sioux Indian word for friend or ally.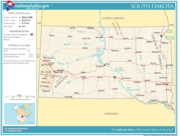 Click on map for larger view
South Dakota State Symbols
State Nickname: Mount Rushmore State

State Slogan: Great Faces. Great Places.

State Motto: Under God the people rule

State flower: Pasque flower

State bird: Ring-necked Pheasant aka Common Pheasant

State fish: Walleye

State tree: Black Hills Spruce

State mammal: Coyote

State foods: Kuchen, Fry Bread


Becoming a State
Date admitted: November 2, 1889

Number admitted: 40

Prior Name: Dakota Territory

Postal Abbreviation: SD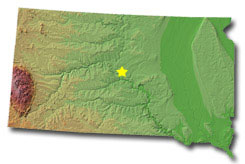 The Geography of South Dakota
Total Size: 75,885 sq. miles (source: 2003 Census)

Geographical Low Point: Big Stone Lake at 966 feet, located in the county/subdivision of Roberts (source: U.S. Geological Survey)

Geographical High Point: Harney Peak at 7,242 feet, located in the county/subdivision of Pennington (source: U.S. Geological Survey)

Central Point: Located in Hughes County approx. 8 miles northeast of Pierre (source: U.S. Geological Survey)

Counties: 66 (source: National Association of Counties)

Bodies of Water: Lake Oahe, Lake Sharpe, Lewis and Clark Lake, Missouri River, James River, Cheyenne River


Famous People
Sparky Anderson - Baseball manager
Tom Brokaw - News anchor
Sitting Bull - Lakota Sioux chief and holy man
Crazy Horse - Native American war leader of the Lakota Sioux
Hubert Humphrey - Vice President of the U.S.
Billy Mills - Gold medal track and field athlete
Cheryl Ladd - Actress from Charlie's Angels
Norm Van Brocklin - Football player and coach
Fun Facts
Harney Peak is the highest US mountain east of the Rockies.
The Crazy Horse Memorial being carved near Mt. Rushmore will be 641 feet wide and 563 feet high.
The movie Dances With Wolves was filmed in South Dakota.
The Homestake Mine is one of the deepest mines in the world at 8000 feet deep!
Mount Rushmore has faces of four famous US presidents carved into it. They are Washington, Jefferson, Roosevelt, and Lincoln.
Each head on Mount Rushmore is 60 feet tall!
North Dakota and South Dakota were admitted on the same day to avoid a feud between the states.
The name Dakota is from the local Native Americans. It means 'friend' or 'ally'.
South Dakota became the United States as part of the Louisiana Purchase in 1803.
Badlands National Park is located in South Dakota.
Professional Sports Teams
There are no major professional sports teams in South Dakota.

Geography >> US States>> South Dakota History

For state symbols, flag, maps, geography, and fun facts: