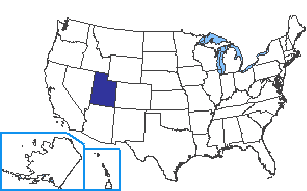 Capital: Salt Lake City

Population: 3,161,105 (Source: 2012 U.S. Census)

Major Cities: Salt Lake City, West Valley City, Provo, West Jordan, Orem

Borders: Idaho, Wyoming, Colorado, Arizona, Nevada, New Mexico

Gross Domestic Product (GDP): $130,486 million (2012 U.S. Department of Commerce)

Key Industries:
Mining including coal, petroleum, gold, and silver
Agriculture includes corn, hay, wheat, cattle, and sheep
Medical equipment, electronics, steel, and tourism

How Utah got its name: The name Utah comes from the Ute Indians and means people of the mountains.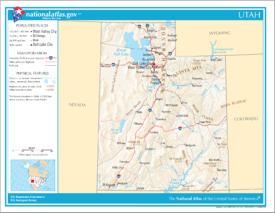 Click on map for larger view
Utah State Symbols
State Nickname: Beehive State

State Slogan: Life Elevated; (formerly) Greatest Snow on Earth and Utah! Where Ideas Connect (the former and the 'Utah!' part of the latter were both on license plates)

State Motto: Industry

State flower: Sego lily

State bird: California Gull

State fish: Bonneville cutthroat trout

State tree: Quaking Aspen

State mammal: Rocky Mountain elk

State foods: Sugar Beet, Jell-O


Becoming a State
Date admitted: Saturday, January 4, 1896

Number admitted: 45

Prior Name: Utah Territory

Postal Abbreviation: UT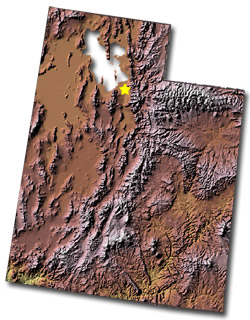 The Geography of Utah
Total Size: 82,144 sq. miles (source: 2003 Census)

Geographical Low Point: Beaver Dam Wash at 2,000 feet, located in the county/subdivision of Washington (source: U.S. Geological Survey)

Geographical High Point: Kings Peak at 13,528 feet, located in the county/subdivision of Duchesne (source: U.S. Geological Survey)

Central Point: Located in Sanpete County approx. 3 miles north of Manti (source: U.S. Geological Survey)

Counties: 29 (source: National Association of Counties)

Bodies of Water: Great Salt Lake, Utah Lake, Lake Powell, Sevier Lake, San Juan River, Colorado River, Green River


Famous People
Roseanne Barr - Comedian and actress
Butch Cassidy - Bank robber and criminal
Philo Farnsworth - Inventor of the television
Julianne Hough - Dancer and actress
Jewel - Singer and songwriter
J. Willard Marriott - Founder of Marriott hotels
Merlin Olen - Professional football player, commentator, and actor
Donny and Marie Osmond - Singer/actors
Byron Scott - Professional basketball player and coach
James Woods - Actor
Steve Young - Professional football player
Fun Facts
Utah is named after the Native American tribe 'Ute' which means 'people of the mountains'.
The Great Salt Lake is the largest lake west of the Mississippi River.
Utah hosted the 2002 Winter Olympics.
The mountains near Salt Lake City, Utah average 500 inches of snowfall per year.
The Mormons, a religious group, settled in Utah in 1847.
It is called the Beehive State as this was an important Mormon symbol standing for industry, thrift, and perseverance.
Utah has the highest literacy rate of any state in the US.
Utah is one of the Four Corners states. It meets up with Colorado, Arizona, and New Mexico at a single point.
The US Transcontinental Railroad was completed at Promontory, Utah. The Union Pacific and the Central Pacific railroads met there and completed the track from one end of the country to the other.
Salt Lake City was called Great Salt Lake City up until 1968 when the Great was dropped.
Professional Sports Teams
Real Salt Lake - MLS (soccer)
Utah Jazz - NBA (basketball)


Geography >> US States>> Utah History

For state symbols, flag, maps, geography, and fun facts: