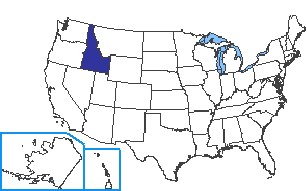 Capital: Boise

Population: 1,754,208 (Source: 2012 U.S. Census)

Major Cities: Boise, Idaho Falls, Nampa, Pocatello, Meridian

Borders: Utah, Wyoming, Montana, Washington, Oregon, Nevada, Canada

Gross Domestic Product (GDP): $58,243 million (2012 U.S. Department of Commerce)

Key Industries:
Agriculture including potatoes, wheat, peas, onions, and dairy products
Lumber, wood products, food processing, paper products, chemicals, electronics, and tourism

How Idaho got its name: Many people think that Idaho comes from a Native American word, but it does not. It is actually just a made up name. It is often credited to Congressman George M. Willing.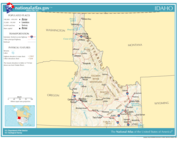 Click on map for larger view
Idaho State Symbols
State Nickname: Gem State

State Slogan: Great Potatoes. Tasty Destinations.

State Motto: Esto perpetua (It is forever)

State flower: Mock Orange

State bird: Mountain Bluebird

State fish: Cutthroat trout

State tree: Western White Pine

State mammal: Appaloosa horse

State foods: Potato, Huckleberry


Becoming a State
Date admitted: Thursday, July 3, 1890

Number admitted: 43

Prior Name: Idaho Territory

Postal Abbreviation: ID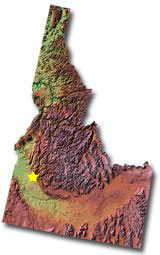 The Geography of Idaho
Total Size: 82,747 sq. miles (source: 2003 Census)

Geographical Low Point: Snake River at 710 feet, located in the county/subdivision of Nez Perce (source: U.S. Geological Survey)

Geographical High Point: Borah Peak at 12,662 feet, located in the county/subdivision of Custer (source: U.S. Geological Survey)

Central Point: Located in Custer County approx. at Custer, southwest of Challis (source: U.S. Geological Survey)

Counties: 44 (source: National Association of Counties)

Bodies of Water: Pend Oreille Lake, Bear Lake, American Falls Reservoir, Snake River, Salmon River, Clearwater River


Famous People
Joseph Albertson - Founder of Albertson's grocery stores
Gutzon Borglum - Mount Rushmore sculptor
Philo Farnsworth - Inventor of the television
Harmon Killebrew - Professional baseball player
Sarah Palin - Governor of Alaska and reality TV star
Ezra Pound - Poet
Sacagawea - Native American guide for explorers Lewis and Clark
Picabo Street - Olympic gold medal skier
Lana Turner - Actress
Fun Facts
The Snake River travels all the way across Idaho.
At the Craters of the Moon National Monument you can see several volcanoes grouped closely together.
Lake Pend Oreille is more than 1,000 feet deep.
Idaho is famous for its fishing and elk hunting.
Where the name Idaho comes from is a mystery. Many think that the lobbyist who suggested it, George Willing, made it up!
Idaho grows more potatoes than any other state.
Island Park has the longest Main Street in the USA at 35 miles long.
Native Americans who lived in Idaho included the Nez Perce in the north and the Shoshone in the south.
Idaho is currently one of the fastest growing states in America.
There are more miles of river in Idaho, 3100, than any other state.
Professional Sports Teams
Idaho has no major professional sports teams.

Geography >> US States>> Idaho History

For state symbols, flag, maps, geography, and fun facts: