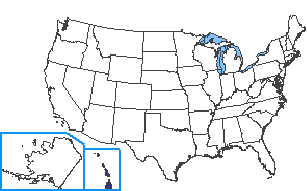 Capital: Honolulu

Population: 1,420,491 (Source: 2012 U.S. Census)

Major Cities: Honolulu, Hilo, Kailua, Kaneohe, Waipahu

Borders: Does not border any other U.S. state, Pacific Ocean

Gross Domestic Product (GDP): $72,424 million (2012 U.S. Department of Commerce)

Key Industries:
Agriculture including sugarcane, pineapples, macadamia nuts, and bananas
Tourism is the primary industry

How Hawaii got its name: The name Hawaii comes from the name for the original home of the Polynesians called Hawaiki.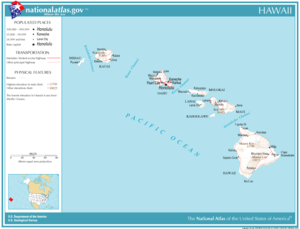 Click on map for larger view
Hawaii State Symbols
State Nickname: Aloha State

State Slogan: The Islands of Aloha

State Motto: Ua Mau Ke Ea O Ka Aina I Ka Pono (The life of the land is perpetuated in righteousness)

State flower: Hawaiian hibiscus

State bird: Nene or Hawaiian Goose

State fish: Reef triggerfish

State tree: Kukui or Candlenut

State mammal: Humpback whale

State foods: Coconut Muffin


Becoming a State
Date admitted: Friday, August 21, 1959

Number admitted: 50

Prior Name: Kingdom of Hawaii, Hawaii Territory

Postal Abbreviation: HI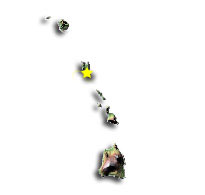 The Geography of Hawaii
Total Size: 6,423 sq. miles (source: 2003 Census)

Geographical Low Point: Pacific Ocean at Sea Level (source: U.S. Geological Survey)

Geographical High Point: Pu'u Wekiu, Mauna Kea at 13,796 feet, located in the county/subdivision of Hawaii (source: U.S. Geological Survey)

Central Point: Located approx. off the southwestern shore of Molokai west of Lanai (source: U.S. Geological Survey)

Counties: 4 (source: National Association of Counties)

Bodies of Water: Pacific Ocean, Hanalei River, Anahulu River, Wailuku River, Salt Lake


Famous People
Tia Carrere - Actress
Don Ho - Singer
Nicole Kidman - Actress
Bette Midler - Singer and actress
Barack Obama - The 44th President of the United States
Kyla Ross - Gymnast
Nicole Scherzinger - Singer
Manti Te'o - Professional football player
Michelle Wie - Professional golfer
Fun Facts
You can go snow skiing on Hawaii's Big Island.
Hawaii was once called the Sandwich Islands.
Aloha means love, affection, and mercy. It is used as a greeting and as a send off.
Hawaii's state flag features the flag of Great Britain, the Union Jack, in the upper left corner.
When Japan attacked Pearl Harbor, the United States entered World War II.
King Kamehameha united the islands in 1810.
There are only 12 letters in the Hawaiian alphabet including 5 vowels and 7 consonants (H, K, L, M, N, P, W).
This is the only state that grows coffee.
There are 8 main islands that make up the state of Hawaii including Maui, Niihau, Lanai, Kauai, Oahu, Molokai, Kahoolawe and the Island of Hawaii
The islands are actually the tops of very tall volcanoes. Measured from the base at the ocean floor, Mauna Kea is the tallest mountain in the world.
Professional Sports Teams
There are no major professional sports teams in Hawaii.

Geography >> US States>> Hawaii History

For state symbols, flag, maps, geography, and fun facts: