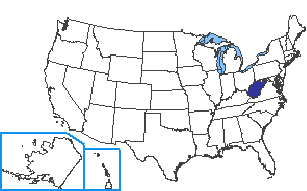 Capital: Charleston

Population: 1,805,832 (Source: 2012 U.S. Census)

Major Cities: Charleston, Huntington, Parkersburg, Morgantown, Wheeling

Borders: Virginia, Kentucky, Ohio, Pennsylvania, Maryland

Gross Domestic Product (GDP): $69,380 million (2012 U.S. Department of Commerce)

Key Industries:
Coal mining, logging, natural gas, tourism, chemicals, and biotechnology

How West Virginia got its name: The name Virginia comes from Queen Elizabeth I who was called the Virgin Queen. It took the name West Virginia when it split from the state of Virginia during the Civil War.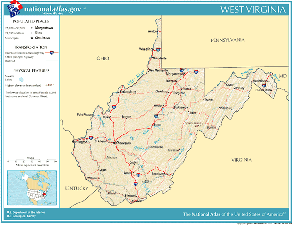 Click on map for larger view
West Virginia State Symbols
State Nickname: Mountain State

State Slogan: Open for Business; (formerly) Wild and Wonderful; also on its license plate as Wild, Wonderful; (formerly) Almost Heaven

State Motto: Montani semper liberi (Mountaineers are always free)

State flower: Rhododendron

State bird: Cardinal

State fish: Brook Trout

State tree: Sugar Maple

State mammal: Black bear

State foods:


Becoming a State
Date admitted: Saturday, June 20, 1863

Number admitted: 35

Prior Name: Virginia

Postal Abbreviation: WV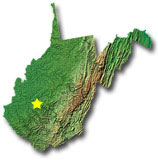 The Geography of West Virginia
Total Size: 24,078 sq. miles (source: 2003 Census)

Geographical Low Point: Potomac River at 240 feet, located in the county/subdivision of Jefferson (source: U.S. Geological Survey)

Geographical High Point: Spruce Knob at 4,863 feet, located in the county/subdivision of Pendleton (source: U.S. Geological Survey)

Central Point: Located in Braxton County approx. 4 miles east of Sutton (source: U.S. Geological Survey)

Counties: 55 (source: National Association of Counties)

Bodies of Water: Potomac River, Ohio River, Kanawha River, Monongahela River, Tygart Lake, Bluestone Lake, Summersville Lake, Sutton Lake


Famous People
Pearl S. Buck - Author of The Good Earth.
Steve Harvey - Actor and talk show host
Devil Anse Hatfield - Leader of the Hatfield family
Stonewall Jackson - Civil War general
Joseph Johnston - Civil War general
Don Knotts- Comedian and actor
John F. Nash - Mathematician
Brad Paisley - Country singer and songwriter
Mary Lou Retton - Olympic gold medalist in gymnastics
Nick Saban - College football coach
Jerry West - Professional basketball player and executive
Chuck Yeager - Test pilot was the first to exceed the sound barrier
Fun Facts
Some people say West Virginia is the northern most southern state, others say it's the southern most northern state.
Harpers Ferry changed hands a dozen times during the Civil War.
The New River is one of the few rivers in the world that flows south to north.
At 1,815 feet long, the New River Gorge Bridge is the longest steel-arch bridge in the United States.
West Virginia split from Virginia during the Civil War. West Virginia wanted to stay in the Union, while Virginia wanted to become part of the Confederacy.
Much of West Virginia is mountains, hence the name the Mountain State. Much of the state, 75%, is also covered in forest.
When the state split from Virginia, delegates voted on a new name from Kanawha, Allegheny, and West Virginia.
West Virginia has one of the lowest crime rates in the country.
Coal mining is still a major industry in the state.
Professional Sports Teams
There are no major professional sports teams in West Virginia.

Geography >> US States>> West Virginia History

For state symbols, flag, maps, geography, and fun facts: