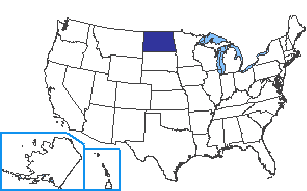 Capital: Bismarck

Population: 760,077 (Source: 2012 U.S. Census)

Major Cities: Fargo, Bismarck, Grand Forks, Minot

Borders: Montana, South Dakota, Minnesota, Canada

Gross Domestic Product (GDP): $46,016 million (2012 U.S. Department of Commerce)

Key Industries:
Agriculture including barley, wheat, oats, corn, beans, sugar beets, and oilseeds
Mining of petroleum, natural gas, and coal
Food processing, technology, farming equipment, and bank

How North Dakota got its name: The name Dakota comes from a Sioux Indian word for friend.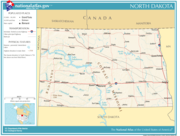 Click on map for larger view
North Dakota State Symbols
State Nickname: Peace Garden State

State Slogan: Legendary

State Motto: Liberty and union, now and forever: one and inseparable

State flower: Wild Prairie Rose

State bird: Western Meadowlark

State fish: Northern pike

State tree: American Elm

State mammal: Nokota horse

State foods: Sugar Beet


Becoming a State
Date admitted: November 2, 1889

Number admitted: 39

Prior Name: Dakota Territory

Postal Abbreviation: ND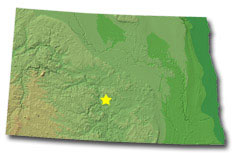 The Geography of North Dakota
Total Size: 68,976 sq. miles (source: 2003 Census)

Geographical Low Point: Red River at 750 feet, located in the county/subdivision of Pembina (source: U.S. Geological Survey)

Geographical High Point: White Butte at 3,506 feet, located in the county/subdivision of Slope (source: U.S. Geological Survey)

Central Point: Located in Sheridan County approx. 5 miles southwest of McClusky (source: U.S. Geological Survey)

Counties: 53 (source: National Association of Counties)

Bodies of Water: Missouri River, Red River, Sheyenne River, James River, Lake Sakakawea, Devil's Lake, Lake Oahe


Famous People
James Buchli - Astronaut
Warren Christopher - U.S. Secretary of State
Angie Dickinson - Actress
Josh Duhamel - Actor
Louis L'Amour - Author of westerns
Peggy Lee - Singer and actress
Roger Maris - Professional baseball player
Lute Olson - College basketball coach
Sacagawea - Native American guide for Lewis and Clark
Lawrence Welk - TV host and music conductor
Fun Facts
North Dakota grows more sunflowers than any other US state.
The largest city in North Dakota is Fargo.
North Dakota was the first state to finish its portion of the Intestate Highway System.
The Dakota name comes from the name of the local American Indians. It means 'friend' or 'ally'.
It gets its nickname from the International Peace Garden that sits on the border between Canada and North Dakota.
The official state beverage is milk.
People have tried to get the name changed to just Dakota because they think the 'North' in the name makes the state sound too cold.
The National Buffalo Museum is in Jamestown. They have a buffalo statue that is 26 feet high and 45 feet long.
Professional Sports Teams
There are no major professional sports teams in North Dakota.

Geography >> US States>> North Dakota History

For state symbols, flag, maps, geography, and fun facts: