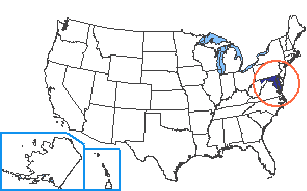 Capital: Annapolis

Population: 6,042,718 (Source: 2012 U.S. Census)

Major Cities: Baltimore, Columbia, Germantown, Silver Spring, Waldorf

Borders: Pennsylvania, Delaware, Virginia, West Virginia, Washington D.C, Atlantic Ocean

Gross Domestic Product (GDP): $317,678 million (2012 U.S. Department of Commerce)

Key Industries:
Agriculture including nursery plants, flowers, dairy products, fishing, corn, and poultry
Transportation, aerospace, biotechnology, healthcare, electronics equipment, and chemicals

How Maryland got its name: Maryland was named after Queen Henrietta Maria (Queen Mary) the wife of Britain's King Charles I.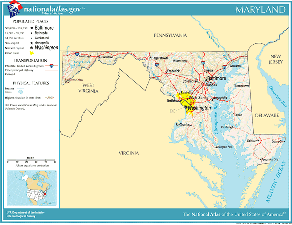 Click on map for larger view
Maryland State Symbols
State Nickname: Old Line State

State Slogan: (formerly) America in Miniature; (formerly) More Than You Can Imagine

State Motto: Fatti maschii, parole femine (Manly deeds, womanly words)

State flower: Black-eyed Susan

State bird: Baltimore Oriole

State fish: Rockfish

State tree: White Oak

State mammal: Thoroughbred horse, Chesapeake Bay Retriever

State foods: Blue Crabs


Becoming a State
Date admitted: Monday, April 28, 1788

Number admitted: 7

Prior Name: Province of Maryland, then sovereign state in Confederation

Postal Abbreviation: MD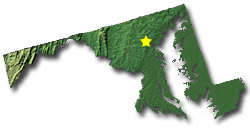 The Geography of Maryland
Total Size: 9,774 sq. miles (source: 2003 Census)

Geographical Low Point: Atlantic Ocean at Sea Level (source: U.S. Geological Survey)

Geographical High Point: Backbone Mtn. at 3,360 feet, located in the county/subdivision of Garrett (source: U.S. Geological Survey)

Central Point: Located in Prince George's County approx. 4 1/2 miles northwest of Davidsonville (source: U.S. Geological Survey)

Counties: 24 (source: National Association of Counties)

Bodies of Water: Atlantic Ocean, Chesapeake Bay, Potomac River, Lake Oakland


Famous People
John Wilkes Booth - Assassin of President Abraham Lincoln
Frederick Douglass - Civil rights activist
Kevin Durant - NBA basketball player
Matthew Henson - Explorer who went to the North Pole
Francis Scott Key - Wrote the U.S. national anthem The Star-Spangled Banner
Thurgood Marshall - First African-American justice of the Supreme Court
Michael Phelps - Olympic swimmer and gold medalist
Cal Ripken Jr. - Baseball player
Babe Ruth - Baseball player
Pete Sampras - Tennis player
Harriet Tubman - Civil rights activist
Fun Facts
The U.S. Naval Academy is located in Annapolis, Maryland.
Even though Maryland is a small state it has great skiing resorts AND beach resorts.
Maryland was named after Queen Henrietta Maria of England.
The National Aquarium is located in Baltimore, Maryland.
The nickname the Old Line State comes from George Washington referring to the bravery of the Maryland troops during the Revolutionary War. Two other nicknames for the state are the Chesapeake State and the Free State.
The first successful manned balloon launch in the US was in Baltimore. The rider was a 13 year old boy named Edward Warren.
The refrigerator was invented in Baltimore by Thomas Moore in 1803.
The first school in the United States was the King William's School. It opened in 1696.
Baseball players Babe Ruth and Cal Ripken Jr. were both born in Maryland.
Annapolis was the capital of the United States for a short while after the signing of the Treaty of Paris.
Professional Sports Teams
Baltimore Ravens - NFL (football)
Baltimore Orioles - MLB (baseball)
Chesapeake Bayhawks - MLL (lacrosse)
Washington Redskins - NFL (football)


Geography >> US States>> Maryland History

For state symbols, flag, maps, geography, and fun facts: