Michael Phelps

Back to Sports

Back to Biographies

Swimmer Michael Phelps is one of the greatest Olympic athletes of all time. He has won 18 gold medals in his career. That's more than any other Olympian. Michael Phelps also won more gold medals in one Olympics, eight in 2008, than any other Olympian in history.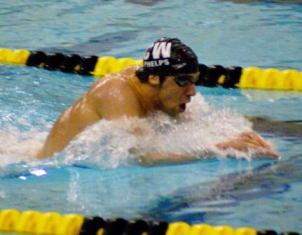 Michael Fred Phelps was born in Baltimore, Maryland on June 30, 1985. He has two older sisters, Hilary and Whitney, who also swim. Michael had ADHD (Attention Deficit Hyperactivity Disorder) as a child. His parents got him into swimming as a way for him to burn off some energy. Plus his sisters already liked to swim. Michael did well at swimming from the start and was breaking records by the age of 10. He was so good he was only 15 when he qualified for the 2000 Olympics.

Where did Michael Phelps go to college?

Michael attended the University of Michigan. He didn't swim for them because he already had a professional endorsement from Speedo.

What swimming events does Michael Phelps race?

Michael swims a number of events and strokes including freestyle, breaststroke, and butterfly. In 2008 he medaled in the freestyle (200m) and butterfly (100m, 200m) individual and relay events. He's also medaled in the medley events which require all 4 strokes.

What records does Michael Phelps hold?

World records are often broken, but at the end of the 2008 Olympics Phelps held 7 world records and 1 Olympic record.

World Records:
400 m individual medley 4:03.84
4 x 100 m freestyle relay 3:08.24
200 m freestyle 1:42.96
200 m butterfly 1:52.03
4 x 200 m freestyle relay 6:58.56
200 m individual medley 1:54.23
4 x 100 m medley relay 3:29.34
Olympic Records: What makes Michael such a fast swimmer?

Phelps' great swimming ability is a combination of skill, physical ability, and hard work. Many experts say that Michael's body was designed for swimming. He has a very long torso, long arms, big feet, and short legs for his height. His long arms and feet help propel him through the water and, at the same time, his long torso and short legs help him to glide cleanly through the water. Michael also has practiced and worked out for years to get into the kind of extreme shape it takes to win so many medals at a single Olympics. His intense focus and drive are legendary.

Fun Facts about Michael Phelps
He is sometimes called by the nickname MP or The Baltimore Bullet. At the Beijing Olympics fans called him the Deep Sea Frog and the Half-man Half-fish. His teammates called him "Gomer".
Michael eats around 12,000 calories of food every day. That's a lot of food!
He received a $1M bonus from Speedo for winning at least 7 gold medals in one Olympics.
At 15 years, 9 months he was the youngest male to break a world record in swimming.
Other Sports Legend's Biographies: