David Beckham Biography

Back to Sports
Back to Soccer
Back to Biographies

David Beckham is one of the top football players in the world over the last 10 years. He has played for teams such as Manchester United, Real Madrid, and AC Milan. He is also perhaps the most famous player to play in the US soccer league Major League Soccer.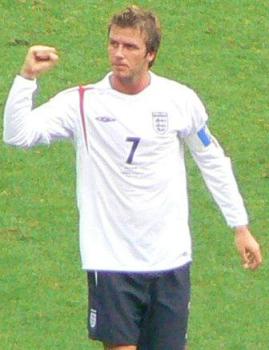 Source: ger1axg, PD, via Wikimedia



Where did David Beckham grow up?

David Beckham was born in Leytonstone, England on May 2, 1975. He grew up loving the game of football. His favorite team was Manchester United, just like his dad. All David ever wanted to be was a professional football player. Fortunately for David, he was skilled in football and progressed quickly up the ranks of football until he reached the top in 1993 at the age of 18 and played his first game for Manchester United's first team.

Manchester United

David is perhaps best known for his time as a football star for Manchester United. He made a number of appearances and played a major role for their team starting with the 1995-1996 season and through the next eight seasons. Manchester U won 6 Premier League titles during that time. Beckham scored 62 goals with the team over the years and became an international football superstar.

Changing Teams

In 2003 David went to play for Real Madrid in the Spanish league La Liga. He played for Real Madrid for the next 4 years until 2007 when he went to play in the MLS for the LA Galaxy. David's move to the Galaxy was big news in the football world. He was the most famous football player to play in the United States and was signed to a $32.5 million contract. In 2013 he went to play for PSG in the French league. He retired at the end of the 2013 season.

Playing for England

David has also played a lot of international football matches for the England national football team. He was captain of the team from 2000-2006 and has played for them a record 115 times and scored 17 goals.

Fun facts About David Beckham
He has two middle names Robert and Joseph.
When he went to play for Real Madrid, David had to choose a new jersey number. His old number, #7, was already taken. He chose #23 because it was Michael Jordan's number.
He is married to pop-star Spice Girl Victoria Beckham.
He was inducted into the English Football Hall of Fame in 2008.
The movie Bend it Like Beckham was about a girl football player who wanted to play like David.
He has scored a goal in three different World Cups.
His house in England is sometimes referred to as Beckingham Palace.
Other Sports Legend's Biographies: