Biography
LeBron James

Sports >> Basketball >> Biographies


Occupation: Basketball Player
Born: December 30, 1984 in Akron, Ohio
Nicknames: King James
Best known for: Making the "Decision" to move to Miami, but later returning to Cleveland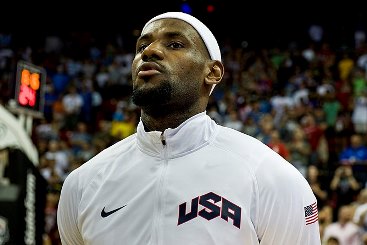 Source: US Air Force

Biography:

LeBron James is widely regarded as one of the best players in basketball today. He has an incredible combination of skills, strength, leaping ability, and height that make him one of the best athletes in the world.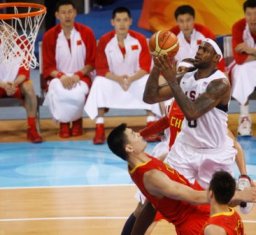 Source: The White House

Where did LeBron grow up?

LeBron James was born in Akron, Ohio on December 30, 1984. He grew up in Akron where he had a difficult childhood. His father was an ex-con who wasn't there when he grew up. His family was poor and had a tough time. Fortunately, his basketball coach, Frankie Walker, took LeBron under his wing and let him stay with his family where he could get away from the projects and focus on school and basketball.

Where did LeBron go to school?

LeBron went to high school at St. Vincent - St. Mary High School in Akron, Ohio. He led his basketball team to three state titles and was named "Mr. Basketball" in Ohio for three straight years. He decided not to go to college and went straight to the NBA where he was the number 1 pick in the 2003 NBA draft.

What NBA teams has LeBron played for?

LeBron was drafted by the Cleveland Cavaliers where he played his first seven seasons. Since he grew up just down the road at Akron, Ohio he was considered a home town superstar and maybe the biggest star ever in Cleveland. However, despite LeBron's excellence on the court, the team was unable to win a championship.

In 2010, LeBron became a free agent. This meant he could go play for any team he wanted. Which team he would choose was big news. ESPN even had a whole show called "The Decision" where LeBron told the world that he was going to play for the Miami Heat next. During his four years with the Miami Heat, LeBron led the Heat to the NBA championship finals every year, winning the championship twice.

In 2014, LeBron moved back to Cleveland. He wanted to bring a championship to his home town. The Cavaliers made it to the championship in 2014, but lost when two of their star players, Kevin Love and Kyrie Irving, went down to injury. LeBron finally brought the NBA title to Cleveland in 2016.

In 2018, James decided to leave the Cavaliers and signed with the Los Angeles Lakers. A few years later, in 2020, he led the Lakers to the NBA championship and earned the Finals MVP for the fourth time.

Does LeBron hold any records?

Yes, LeBron James holds a number of NBA records and has received a number of awards. Here are just a few of them:
He was the NBA Finals MVP and Champion in 2012.
He was the NBA MVP multiple times.
He is the only player in NBA history to average at least 26 points, 6 rebounds and 6 assists over their career (at least so far in 2020).
He was the first forward to average more than 8.0 assists per game.
The youngest player to score 40 points in a game.
The youngest player to get a triple-double in the playoffs.
He won the Olympic Gold Medal in 2008 and 2012.
Fun Facts about LeBron James
He was named to the first team all state football team his sophomore year of high school as a wide receiver.
His nickname is King James and he has a tattoo saying "Chosen 1".
He was the youngest player to be drafted by the NBA number 1 at the age of 18.
LeBron has hosted Saturday Night Live.
He has two sons and a daughter (Bronny James, Bryce Maximus James, Zhuri James)
LeBron is 6 feet 8 inches tall and weighs 250 pounds.
He shoots mostly with his right-hand even though he is actually left-handed.
James is a big New York Yankees fans and made Cleveland fans angry when he wore a Yankees hat to a Yankees vs. Indians game.
Other Sports Legend's Biographies:


Sports >> Basketball >> Biographies