Drew Brees Biography

Back to Sports
Back to Football
Back to Biographies

Drew Brees played quarterback in the NFL for 20 seasons. He spent most of his career with the Saints in New Orleans where he led them to a Super Bowl victory in 2009 becoming the Super Bowl MVP at the same time. He was known for his accurate arm, desire to win, positive attitude, and leadership. When Brees retired he held quarterback records for career pass completions, career completion percentage, and regular season passing yards. He was also second in career touchdown passes and career pass attempts.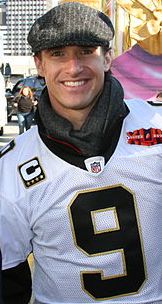 Source: US Navy



Where did Drew grow up?

Drew Brees was born in Austin, Texas on January 15, 1979. He grew up around football and sports in his family. Drew was an outstanding athlete playing basketball and baseball in addition to football. But it was at quarterback where he truly excelled. His strong arm and football smarts helped him to lead his team to the state championship and a 16-0 record his senior year.

Where did Drew Brees go to college?

Drew had the stats and the arm to play college anywhere in the country, however, he didn't have the size. Big time colleges thought he was too short and too skinny. At 6 feet tall he just didn't fit the mold of what most big time colleges were looking for. Fortunately, Purdue University needed a quarterback and liked Drew despite his height.

Drew excelled at Purdue setting a number of Big10 Conference career records including most touchdown passes, most passing yards, and completions. Twice he was a finalist in the Heisman Trophy voting and he also led Purdue to its first Rose Bowl since 1967.

Drew Brees' First Team in the NFL

Brees was drafted by the San Diego Chargers with the first pick in the second round of the 2001 NFL draft. Again he slipped in the draft due to his height. Teams just didn't think he was tall enough to become a great NFL quarterback.

After some ups and downs his first two years, Brees started to have some good success with the Chargers. He had strong seasons in 2003 and 2004 until the last game of the 2004 season when he severely injured his shoulder in his throwing arm. That same year Drew became an unrestricted free agent. The Chargers had young quarterback Philip Rivers waiting in the wings. They wanted to keep Brees, but didn't want to pay him top dollar or guarantee him the starting job, especially with his damaged shoulder. Drew decided to look elsewhere.

Recovering from Injury

Drew spent the entire off season rehabilitating his shoulder after surgery. There were questions as to whether he would ever be able to throw a football again. Drew knew he could do it, however, and through much pain, exercise, and work he slowly recovered.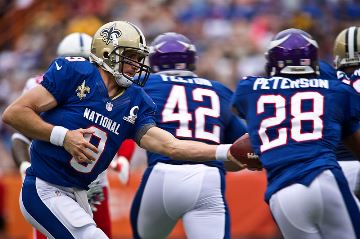 Brees handing the ball off at the Pro Bowl

Source: US Air Force

Drew Brees and the New Orleans Saints

When Drew decided not to play for the Chargers, he looked elsewhere. The Dolphins and the Saints were interested, but it was the Saints who had confidence in Brees. They wanted him as their franchise guy. Just like Brees did, they knew he could do it.

Brees recovered from his injury to start for the Saints the next year. He had a tremendous season going to the Pro Bowl and finishing second in the NFL MVP voting. The Saints continued to improve and build players around Drew. In 2009 it all came together when the Saints won their first Super Bowl and Brees was named Super Bowl MVP.

In 2011 season, Drew passed for 5,476 yards breaking the NFL single season record for the most yards. He set a number of other records that year as well and was named the NFL Offensive Player of the Year.

Fun Facts about Drew Brees
Drew is short for Andrew. His parents called him Drew for Drew Pearson the Dallas Cowboy's wide receiver.
For his work in charity, he was named the 2006 co-Walter Payton Man of the Year together with his friend LaDainian Tomlinson.
Brees has been very involved with the recovery of New Orleans from hurricane Katrina.
Co-wrote his autobiography called Coming Back Stronger. It opened at number 3 on the New York Times bestseller list.
He was born with a large birthmark on his cheek. He often wished his parents had had it removed when growing up, but now considers it a part of himself and is glad they left it.
Drew was on the cover of the video game Madden NFL 11.
Other Sports Legend's Biographies: