Jimmie Johnson

Back to Sports
Back to NASCAR
Back to Biographies

Jimmie Johnson is one of the top race car drivers in NASCAR today. He is most famous for winning five straight NASCAR sprint cup championships. Only one other race car driver, Cale Yarborough, in NASCAR history has won three straight.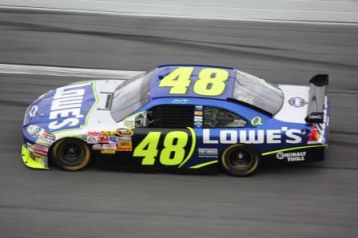 Jimmie Kenneth Johnson was born in El Cajon, California on September 17, 1975. Before coming to NASCAR Sprint Cup in 2002, Jimmie raced in several leagues including SODA, SCORE international, the ASA circuit, and the NASCAR Busch Series. He was very successful in all of these racing leagues winning many races, championships, and rookie of the year awards.

Today Jimmie Johnson drives the number 48 car for Hendrick Motor Sports. Jeff Gordon, Jimmie's current teammate, helped Jimmie get the job. The main sponsor for the car is Lowe's and it's a Chevrolet.

How did Jimmie Johnson get into racing?

Jimmie started racing at the early age of 5. He first raced motorcycles and was the 60cc motorbike champion at 8 years old. From there Jimmie worked his way up through many racing leagues until he finally reached NASCAR. Jimmie's mom and dad were heavily involved in his early career working hard to drive him from track to track and even pitching in and helping with the races.

How good has Jimmie Johnson been as a NASCAR driver?

Jimmie Johnson's success in NASCAR is truly amazing. He won five straight Sprint Cup Series championships from 2006 to 2010. Jimmie also tied a NASCAR record with 4 straight wins in 2007. He was the first race car driver to win the AP Male Athlete of the Year Award in 2009. He was also named Forbes.com's Most Influential Athlete for 2011 and 2012. Jimmie Johnson is considered one of the top drivers in NASCAR racing history.


Fun Facts about Jimmie Johnson
Jimmie Johnson owns his own jet to fly to and from races each week.
He currently lives with his wife, Chandra, in Mooresville, NC.
In the Chevy Monte Carlo 400 (2002), Jimmie had the cartoon characters Tweety & Sylvester painted on his car.
The Jimmie Johnson Foundation helps needy kids and families pursue their dreams.
He was the first rookie to lead in the NASCAR cup points race.
In 2007, Jimmie donated his winnings from the Atlanta Motor Speedway cup race to the Red Cross to help support California wildfire victims.
Other Sports Legend's Biographies: