Kevin Durant Biography

Back to Sports
Back to Basketball
Back to Biographies

After just a few years, Kevin Durant has become one of the top players in the NBA. He plays small forward, but is versatile enough to play many other positions. He is one of the best pure scorers and shooters in the game.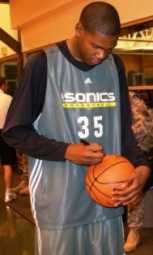 Source: US Air Force



Where did Kevin grow up?

Kevin Durant was born in Washington D.C. on September 19, 1988. He grew up just outside of DC in Seat Pleasant, Maryland. His mother, Wanda Pratt, raised him together with his grandmother.

At the age of 10 Kevin decided he was going to be a basketball player. His mother said she would help him and kept on him his whole career about working extra hard and keeping in shape. Kevin attributes much of his success to his mother.

Where did Kevin Durant play college basketball?

Kevin went to college at the University of Texas. He played one year for the Texas Longhorns before going to the NBA. Durant had an amazing freshman year at Texas. He won many of the Player of the Year awards including the prestigious Naismith and Wooden awards. It was a great accomplishment for a freshman and demonstrated that he was ready to become a superstar at the next level.

Kevin Durant in the NBA

Durant was drafted second, behind Greg Oden, in the NBA draft by the Seattle Supersonics. He played his first year in Seattle and then the team relocated to Oklahoma City and changed its name to the Thunder. Durant won Rookie of the Year and became just the third NBA rookie to average more than 20 points a game. The other two were LeBron James and Carmelo Anthony.

By his second year in the NBA Kevin Durant was considered an elite NBA player. He finished second behind LeBron James in the MVP voting, led the league in scoring, and was named to the All-NBA team. He was the youngest player in NBA history to win the league's scoring title.

Fun Facts about Kevin Durant
Kevin has won the NBA's H-O-R-S-E competition twice.
Kevin likes to play video games and his favorite food is crab legs.
He is best friends with fellow NBA player Michael Beasley who he grew up with.
Durant was the leader on the US 2010 FIBA World Championship team. He led the team to its first gold medal since 1994 and was the MVP.
He wears the number 35 to honor Charles Craig, one of his AAU coaches, who died at age 35.
He has long arms and a wingspan of 7 and 1/2 feet!
When he first entered the NBA he signed a $60 million contract with Nike. He actually turned down a bigger contract offer from Adidas because he had worn Nikes since he was a kid.
Other Sports Legend's Biographies: