Dale Earnhardt Jr. Biography

Back to Sports
Back to NASCAR
Back to Biographies

Dale Earnhardt Jr. is one of the most popular race car drivers in the world. He drove the number 8 and the 88 for much of his NASCAR career. He is the son of late NASCAR legend Dale Earnhardt.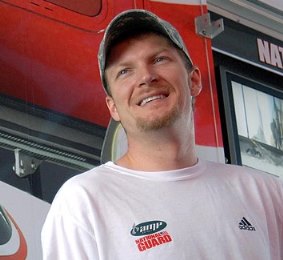 Source: National Guard

Where did Dale Jr. grow up?

Dale Earnhardt Jr. was born in Kannapolis, North Carolina on October 10, 1974. Dale grew up in North Carolina. After his parents divorced he lived with his mom for a short time and then with his dad and his stepmom Teresa. Since his dad was racing so much, Dale was mostly raised by his stepmother.

Before Dale started racing he worked at his dad's car dealership where he serviced cars, changing the oil and other maintenance tasks. He started racing at the age of 17. Dale and his brother Kerry pooled their money to buy a 1979 Monte Carlo they raced in the Street Stock division. He raced there for two years and then moved up to the Late Model Stock Car division. Dale loved cars and continued to learn more about them, both by getting racing experience and by working on cars as a mechanic at his dad's dealership. He also went to school to earn an automotive technology degree at Mitchell Community College.

Becoming a NASCAR Driver

In 1996 Dale got his chance to drive in NASCAR. He raced for his father's racing team, Dale Earnhardt Inc. by filling in for driver Ed Whitaker in a few Busch Series races. This continued in 1997 and then Dale got is own fully time ride in 1998.

It was in 1998 when Dale Earnhardt Jr. began to make a name for himself in NASCAR. In his first full year of racing Dale won the NASCAR Busch Series Championship. He continued his success, winning the championship again in 1999. It was time for Dale to move up to the top series. In 2000, Dale became a full time NASCAR Sprint Cup driver.

Dale's Dad Dies

At the 2001 Daytona 500, Dale's dad, Dale Earnhardt Sr., crashed into the wall on the last lap of the race. Sadly, he died in the crash. This was, obviously, an emotionally tough time for Dale Jr. He would win the race at the Daytona track later that year and, in one of the highlights of his racing career, would win the Daytona 500 in 2004.

NASCAR's Most Popular Driver

Dale Earnhardt Jr.'s NASCAR career was up and down as far was winning goes. He won 26 times in NASCAR Cup Series races, but did not achieve his goal of winning a championship. His likable personality, charisma, driving style, and heritage made him very popular, however. He won NASCAR's Most Popular Driver Award every year for fifteen years from 2003 to 2017. Dale retired from full time driving in 2017.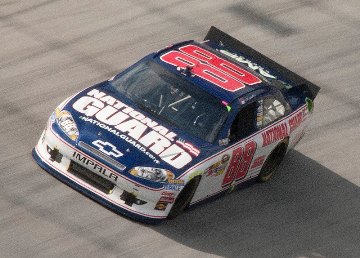 Dale driving the number 88 National Guard car
Source: US Air Force
Fun Facts about Dale Earnhardt Jr.
His first name is Ralph.
He originally drove the number 8, but when he left Dale Earnhardt, Inc. he had to change his number to 88.
His nickname is Little E.
He once raced with a broken collarbone. He finished third driving with one arm.
Dale is good friends with Tony Stewart and Matt Kenseth.
His first Sprint Cup race was the Coca-Cola 600 in Charlotte right near where he grew up in Kannapolis.
He owns a media production company called Hammerhead Entertainment.
Dale appeared on the TV sitcom Yes, Dear and the movie Talladega Nights: The Ballad of Ricky Bobby. He's also been in a number of music video's including artists such as Cheryl Crow, Jay-Z, Trace Adkins, Kid Rock, and Nickelback.
Other Sports Legend's Biographies: