Biography
Derek Jeter

Sports >> Baseball >> Biographies


Occupation: Baseball Player
Born: June 26, 1974 in Pequannock Township, NJ
Nicknames: Captain Clutch, Mr. November
Best known for: Leading the New York Yankees to several World Series titles
Biography:

Derek Jeter is one of today's most celebrated major league baseball players. He is often considered the face of the New York Yankees, where he played his entire career. While playing, Jeter was also team captain of the Yankees.

Where did Derek Jeter grow up?

Derek Jeter was born Derek Sanderson Jeter on June 26, 1974 in Pequannock Township, NJ. He mostly grew up in Kalamazoo, Michigan where he went to high school and starred on the basketball and baseball teams for Kalamazoo Central High School. He has a sister named Sharlee.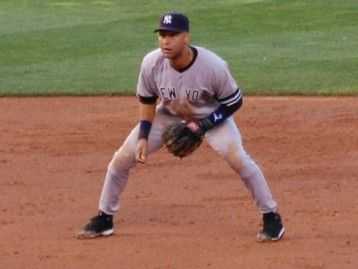 When did Derek Jeter make it to the major leagues?

Like all young baseball players, Derek's goal was to play in the major leagues. He got his chance playing against the Seattle Mariners on May 29, 1995. He got his first hit a day later and a great baseball career had begun. After a long career, Derek played his last game and retired on September 28, 2014.

Where did Derek Jeter play minor league baseball?

Derek Jeter played for a number of minor league teams during his four years in the minors. All of them are part of the Yankees minor league system. In order, he played for the rookie league GCL Yankees, single A Greensboro Hornets, single A+ Tampa Bay Yankees, double A Albany-Colonie Yankees, and the AAA Columbus Clippers.

Did Derek Jeter go to college?

Derek considered going to the University of Michigan where he received a baseball scholarship. However, he was drafted out of high school as the 6th pick by the New York Yankees and opted to go pro. He hopes to go back to college someday.

Did Jeter win a World Series?

Yes. Derek Jeter won 5 World Series with the New York Yankees.

What records does Derek Jeter hold?

Derek holds a number of records and accomplishments. We'll list a few of his major ones here:
Most hits by a Yankee
Most games played as a Yankee
He had 3,465 career hits and a .310 lifetime batting average
He had 260 home runs and 1311 RBIs
He was an American League All-Star 14 times
He won the short stop American League Gold Glove 5 times
He was the World Series MVP in 2000
Fun Facts about Derek Jeter
He is the only player to win both the All-Star Game MVP and the World Series MVP in the same year.
He has his own video game called Derek Jeter Pro Baseball 2008.
He was on an episode of the hit TV show Seinfeld.
He endorses a number of products including Gatorade, VISA, Nike, and Ford.
Derek has his own charitable foundation called the Turn 2 Foundation to help out kids in trouble.
He used the same type of bat, a Louisville Slugger P72, on every one of his over 14,000 at bats in the majors.
Other Sports Legend's Biographies:


Sports >> Baseball >> Biographies