Lance Armstrong Biography


Back to Sports
Back to Biographies

Lance Armstrong is one of the greatest road racing cyclists in the history of the sport. He has won the premier event of the sport, the Tour de France, a record seven times. He is also known for overcoming cancer and for his charitable foundation The Lance Armstrong Foundation.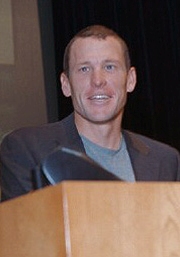 Source: US Congress



Where did Lance Armstrong grow up?

Lance Armstrong was born in Dallas, Texas September 18, 1971. At the very young age of 12 Lance started showing his skills as an endurance athlete by placing fourth in the Texas State 1,500 meter freestyle. Soon after that Lance discovered the triathlon, a race where you swim, bike, and jog. He started to enter triathlon competitions and at the age of 16 was the number one ranked triathlon competitor in the 19 and under division. His best event was the cycling portion, and soon Lance decided to focus on cycling.

Once Armstrong began to focus his efforts on cycling, he quickly became one of the top cyclers in the US and in the world. In 1993 he was both the US National Cycling Champion and the World Cycling Champion.

Cancer

In 1996 Lance Armstrong was diagnosed with cancer. The cancer was very bad and was in his lungs and his brain, meaning there was a good chance he would not survive. He had to have multiple surgeries and go on chemotherapy. Lance survived and when he came back, he came back better than ever.

The Comeback

Three years after being diagnosed with cancer, Lance Armstrong won the most prestigious race in his sport, the Tour de France. Even more amazing is that he continued to win the race every year for seven years in a row. From 1999 to 2005, Lance dominated the world of cycling winning every Tour de France, two more than any other cyclist in history.

In 2005, Lance announced his retirement from professional cycling. He did make a short comeback again in 2009. In 2009 he finished 3rd in the Tour de France and in 2010 he finished 23rd. He retired in 2011.

The Lance Armstrong Foundation

Lance formed his foundation to help people with cancer. A big part of raising funds is his LiveStrong brand and store. His yellow wristband saying LiveStrong is popular and 100% of the proceeds goes to helping cancer victims. It has become one of the top 10 cancer research funds in the United States. The foundation has raised more than $325 million for cancer research.

Doping Scandal

Throughout his career Lance had been accused of cheating by use of doping. In 2012, he admitted that he had cheated. He was banned from cycling for life and his victories in the Tour de France races were disqualified.

Fun facts about Lance Armstrong
Lance was the 2002 Sports Illustrated Sportsman of the Year.
He is named after a Dallas Cowboys wide receiver Lance Rentzel.
In 2011 over 2.7 million people follow him on Twitter.
He has ran the NYC Marathon and the Boston Marathon. In 2007 he finished the New York City Marathon in 2h 46m 43s.
He had a small role in the movie You, Me, and Dupree.
At his peak physical condition, Lance had a resting heart rate of 32-34 beats per minute. Check yours….I bet it's not that low!
Other Sports Legend's Biographies: