The continent of Africa borders the southern half of the Mediterranean Sea. The Atlantic Ocean is to the west and the Indian Ocean is to the Southeast. Africa stretches well south of the equator to cover more than 12 million square miles making Africa the world's second largest continent. Africa is also the world's second most populous continent. Africa is one of the most diverse places on the planet with a wide variety of terrain, wildlife, and climates.

Africa is home to some of the world's great civilizations including Ancient Egypt which ruled for over 3000 years and built the Great Pyramids. Other civilizations include the Mali Empire, the Songhai Empire, and the Kingdom of Ghana. Africa is also home to some of the oldest discoveries of human tools and possibly the oldest people group in the world in the San people of Southern Africa. Today, some of the world's fastest growing economies (2019 GDP) come from Africa with the two largest economies in Africa being Nigeria and South Africa.

Population: 1,022,234,000 (Source: 2010 United Nations)

Area: 11,668,599 square miles

Ranking: It is the second largest and second most populous continent.

Major Biomes: desert, savanna, rain forest

Major cities:
Cairo, Egypt
Lagos, Nigeria
Kinshasa, Democratic Republic of the Congo
Johannesburg-Ekurhuleni, South Africa
Khartoum-Umm Durman, Sudan
Alexandria, Egypt
Abidjan, Cote d'Ivoire
Casablanca, Morocco
Cape Town, South Africa
Durban, South Africa
Bordering Bodies of Water: Atlantic Ocean, Indian Ocean, Red Sea, Mediterranean Sea, Gulf of Guinea

Major Rivers and Lakes: Nile River, Niger River, Congo River, Zambezi River, Lake Victoria, Lake Tanganyika, Lake Nyasa

Major Geographical Features: Sahara Desert, Kalahari Desert, Ethiopian Highlands, Serengeti grasslands, Atlas Mountains, Mount Kilimanjaro, Madagascar Island, Great Rift Valley, the Sahel, and the Horn of Africa
Countries of Africa
Learn more about the countries from the continent of Africa. Get all sorts of information on each African country including a map, a picture of the flag, population and much more. Select the country below for more information:



Fun Facts about Africa:
The highest point in Africa is Mount Kilimanjaro in Tanzania at 5895 meters high. The lowest point is Lake Asal in Djibouti at 153 meters below sea level.

The largest country in Africa is Algeria, the smallest is the Seychelles. The most populated country is Nigeria.

The largest lake in Africa is Lake Victoria and the longest river is the Nile River, which is also the longest river in the world.

Africa is rich with varied wildlife including elephants, penguins, lions, cheetahs, seals, giraffes, gorillas, crocodiles, and hippos.

African languages are varied with more than 1000 languages spoken across the continent.


Coloring Map of Africa
Color in this map to learn the countries of Africa.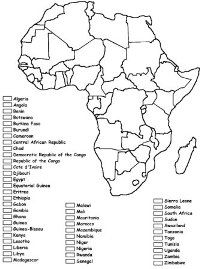 Click to get a larger printable version of map.
Other Maps

Go here to learn about the history of Ancient Africa.

Geography Games:

Africa Map Game
Africa Crossword
Asia Word Search

Other Regions and Continents of the World: Back to Geography