| | |
| --- | --- |
| Mayotte | |
Capital: Mamoutzou

Population: 266,150

Brief History of Mayotte:
Mayotte is an island land located in the Indian Ocean between Madagascar and Africa. It was first sighted by the Portuguese but was not colonized.

During the early 1800s the island was conquered and changed hands among the local kings and sultans a number of times. In 1843 France gained control of the islands along with the rest of the Comoros islands. When the rest of the islands voted for independence in 1974, Mayotte opted to stay with France. Again in 2009 Mayotte voted to become a French overseas department.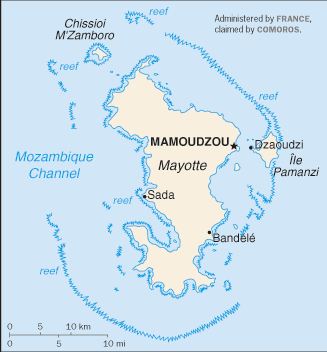 The Geography of Mayotte
Total Size: 374 square km

Size Comparison: slightly more than twice the size of Washington, DC

Geographical Coordinates: 12 50 S, 45 10 E

World Region or Continent: Africa

General Terrain: generally undulating, with deep ravines and ancient volcanic peaks

Geographical Low Point: Indian Ocean 0 m

Geographical High Point: Benara 660 m

Climate: tropical; marine; hot, humid, rainy season during northeastern monsoon (November to May); dry season is cooler (May to November)

Major cities:


The People of Mayotte
Type of Government: NA

Languages Spoken: Mahorian (a Swahili dialect), French (official language) spoken by 35% of the population

Independence: none (territorial collectivity of France)

National Holiday: Bastille Day, 14 July (1789)

Nationality: Mahorais (singular and plural)

Religions: Muslim 97%, Christian (mostly Roman Catholic)

National Symbol:

National Anthem or Song:


Economy of Mayotte
Major Industries: newly created lobster and shrimp industry, construction

Agricultural Products: vanilla, ylang-ylang (perfume essence), coffee, copra

Natural Resources: NEGL

Major Exports: ylang-ylang (perfume essence), vanilla, copra, coconuts, coffee, cinnamon

Major Imports: food, machinery and equipment, transportation equipment, metals, chemicals

Currency: euro (EUR)

National GDP: $466,800,000




** Source for population (2012 est.) and GDP (2011 est.) is CIA World Factbook.



Back to Geography Home Page