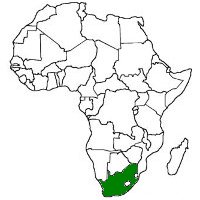 Geography >> Africa >> South Africa History and Timeline
South Africa
Capital: Pretoria (administrative capital)

Population: 58,558,270
The Geography of South Africa
Borders: Namibia, Botswana, Lesotho, Mozambique, Eswatini, Zimbabwe, Indian Ocean, Atlantic Ocean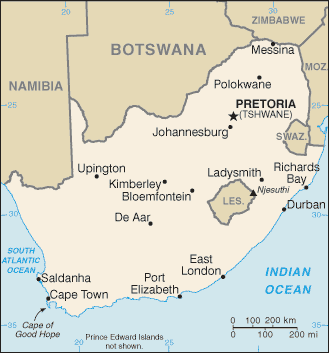 Total Size: 1,219,912 square km

Size Comparison: slightly less than twice the size of Texas

Geographical Coordinates: 29 00 S, 24 00 E

World Region or Continent: Africa

General Terrain: vast interior plateau rimmed by rugged hills and narrow coastal plain

Geographical Low Point: Atlantic Ocean 0 m

Geographical High Point: Njesuthi 3,408 m

Climate: mostly semiarid; subtropical along east coast; sunny days, cool nights

Major Cities: Johannesburg 3.607 million; Cape Town 3.353 million; Ekurhuleni (East Rand) 3.144 million; Durban 2.837 million; PRETORIA (capital) 1.404 million

Major Landforms: Drakensberg Mountain Range, Magaliesberg Mountains, Karoo Plateau, Table Mountain, Highveld, the Great Escarpment, Lesotho Highlands, Kalahari Basin, Kalahari Desert, Witwatersrand, the Bushveld, Cape of Good Hope

Major Bodies of Water: Orange River, Limpopo River, Vaal River, Lake Chrissie, False Bay, Indian Ocean, Atlantic Ocean

Famous Places: Cape of Good Hope, Table Mountain, Kruger National Park, Robben Island, Boulders Beach, Signal Hill, Lion's Head, Big Hole, Cape Town, Garden Route, Johannesburg, Blyde River Canyon Nature Reserve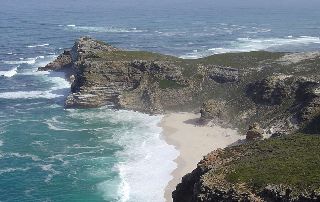 Cape of Good Hope
Economy of South Africa
Major Industries: mining (world's largest producer of platinum, gold, chromium), automobile assembly, metalworking, machinery, textiles, iron and steel, chemicals, fertilizer, foodstuffs, commercial ship repair

Agricultural Products: corn, wheat, sugarcane, fruits, vegetables; beef, poultry, mutton, wool, dairy products

Natural Resources: gold, chromium, antimony, coal, iron ore, manganese, nickel, phosphates, tin, uranium, gem diamonds, platinum, copper, vanadium, salt, natural gas

Major Exports: gold, diamonds, platinum, other metals and minerals, machinery and equipment

Major Imports: machinery and equipment, chemicals, petroleum products, scientific instruments, foodstuffs

Currency: rand (ZAR)

National GDP: $555,000,000,000
Government of South Africa
Type of Government: republic

Independence: 31 May 1910 (from UK); note - South Africa became a republic in 1961 following an October 1960 referendum

Divisions: South Africa is divided into nine provinces. You can see the locations and names below. They are listed below in order of size by population with Gauteng being the most populous of the provinces.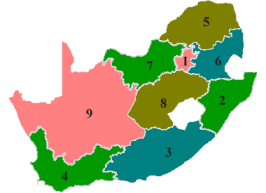 Gauteng
KwaZulu-Natal
Eastern Cape
Western Cape
Limpopo
Mpumalanga
North West
Free State
Northern Cape
National Anthem or Song: National Anthem of South Africa

National Symbols:
Animal - Springbok
Bird - Blue Crane
Fish - Galjoen
Tree - Real yellowwood
Flower - Protea
Motto - Unity in Diversity
Other symbols - Coat of arms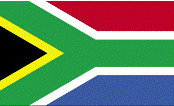 Description of flag: The flag of South Africa was adopted on April 27, 1994. It had a unique design that is centered around a horizontal green "Y". To the left of the Y (hoist side) is a black triangle outlined with yellow. Above the Y to the right of the flag is a red stripe. Below the Y is a blue stripe.

The flag is a combination of colors that represents the unity and diversity of the country. The black, yellow, and green are colors of the African National Congress. The red, white, and blue come from both the flag of the United Kingdom and the previous Dutch flag.

National Holiday: Freedom Day, 27 April (1994)

Other Holidays: New Years' Day (January 1), Human Rights Day (March 21), Good Friday, Freedom Day (April 27), Workers' Day (May 1), Youth Day (June 16), National Women's Day (August 9), Heritage Day (September 24), Day of Reconciliation (December 16), Christmas (December 25)
The People of South Africa
Languages Spoken: IsiZulu 23.8%, IsiXhosa 17.6%, Afrikaans 13.3%, Sepedi 9.4%, English 8.2%, Setswana 8.2%, Sesotho 7.9%, Xitsonga 4.4%, other 7.2% (2001 census)

Nationality: South African(s)

Religions: Zion Christian 11.1%, Pentecostal/Charismatic 8.2%, Catholic 7.1%, Methodist 6.8%, Dutch Reformed 6.7%, Anglican 3.8%, other Christian 36%, Islam 1.5%, other 2.3%, unspecified 1.4%, none 15.1% (2001 census)

Origin of the name South Africa: South Africa gets its name from being at the southernmost point in Africa.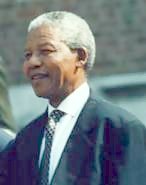 Nelson Mandela
Famous People:
Charlene - Princess of Monaco
F.W. de Klerk - Prime Minister who helped end apartheid
Basetsana Kumalo - TV personality and business person.
Nelson Mandela - World leader, civil rights activist
Bonang Matheba - Radio host and TV presenter known as Bassie.
Dave Matthews - Singer
Thabo Mbeki - President of South Africa
Steve Nash - Basketball player
Francois Pienaar - Rugby player
Oscar Pistorius - Track and field runner known as the "Blade Runner"
Gary Player - Professional golfer
Charlize Theron - Actress
J.R.R. Tolkien - Author who wrote The Lord of the Rings
Desmond Tutu - Religious leader who fought against apartheid
Jacob Zuma - President of South Africa


Geography >> Africa >> South Africa History and Timeline


** Source for population (2019 est.) is United Nations. GDP (2011 est.) is CIA World Factbook.