History >> Geography >> Africa >> Egypt
Egypt
Timeline and History Overview
Egypt Timeline
BCE
3100 - The Egyptians develop hieroglyphic writing.


2950 - Upper and Lower Egypt are united by Menes, the first Pharaoh of Egypt.


2700 - Papyrus is developed as a writing surface.


2600 - The first pyramid is built by the Pharaoh Djoser. Imhotep, the famous advisor, is the architect.



Pyramids of Giza



2500 - The Sphinx and the Great Pyramids of Giza are constructed.


1600 - The chariot is introduced.


1520 - Amhose I reunites Egypt and the New Kingdom period begins.


1500 - The pharaohs begin to be buried at the Valley of the Kings.


1479 - Hatshepsut becomes pharaoh.


1386 - Amenhotep III becomes pharaoh. Ancient Egypt reaches its peak and the Temple of Luxor is constructed.


1279 - Ramses II becomes pharaoh. He will rule for 67 years.


670 - The Assyrians invade and conquer Egypt.


525 - The Persian Empire conquers and rules Egypt.


332 - Alexander the Great conquers Egypt. He establishes the city of Alexandria.



King Tut's Mummy



305 - Ptolemy I, a general under Alexander the Great, becomes pharaoh.


30 - Cleopatra VII commits suicide. She is the last pharaoh of Egypt. Egypt comes under the rule of the Roman Empire.


CE Brief Overview of the History of Egypt

One of the oldest and longest lasting civilizations in world history was developed in Ancient Egypt. Starting in about 3100 BC, Menes became the first Pharaoh uniting all of Ancient Egypt under one rule. The Pharaohs ruled the land for thousands of years building great monuments, pyramids, and temples that still survive to this day. The height of Ancient Egypt was in the time of the New Empire from 1500 to 1000 BC.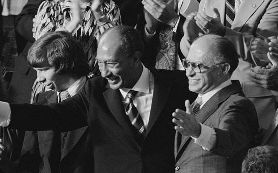 Sadat and Begin



In 525 BC the Persian Empire invaded Egypt taking over until the rise of Alexander the Great and the Greek Empire in 332 BC. Alexander moved the capital to Alexandria and put the Ptolemy dynasty in power. They would rule for around 300 years.

Arab forces invaded Egypt in 641. Arab Sultanates were in power for many years until the Ottoman Empire arrived in the 1500s. They would remain in power until its power started to wane in the 1800s. In 1805, Mohammed Ali became Pasha of the country and founded a new dynasty of rule. Ali and his heirs would rule until 1952. During this time the Suez Canal was completed as well as the building up of the modern city of Cairo. For some years between 1882 and 1922, the Ali dynasty was a puppet of the British Empire while the country was part of the British Empire.

In 1952, Egypt the monarchy was overthrown and the Republic of Egypt was established. One of the main leaders, Abdel Nasser came into power. Nasser took control of the Suez Canal and became a leader in the Arab world. When Nasser died, Anwar Sadat was elected President. Prior to Sadat becoming president, Egypt and Israel had fought several wars. In 1978, Sadat signed the Camp David accords which led to a peace treaty between Egypt and Israel.

More Timelines for World Countries:



History >> Geography >> Africa >> Egypt