History >> Geography >> Middle East >> Turkey
Turkey
Timeline and History Overview
Turkey Timeline
BCE
1600 - The Hittite Empire forms in Turkey, also known as Anatolia.


1274 - The Hittites fight the Egyptian army under Ramesses II at the Battle of Kadesh.


1250 - Traditional date for the Trojan War which was fought in northwest Turkey.


1180 - The Hittite Empire collapses and divides into several smaller states.


1100 - The Greeks begin to settle along the Mediterranean coast of Turkey.


657 - Greek colonists establish the city of Byzantium.


546 - The Persians under the leadership of Cyrus the Great take over much of Anatolia.


334 - Alexander the Great conquers Anatolia on his way to conquering the Persian Empire.


130 - Anatolia becomes part of the Roman Empire.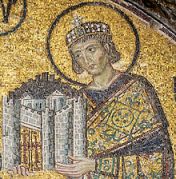 Emperor Constantine



CE Brief Overview of the History of Turkey

Turkey is located at the crossroads between Europe and Asia. This has made it an important land throughout world history. The city of Troy, made famous in Greek literature, was located on the Turkish coastline thousands of years ago. The first major empire to form in the land was the Hittite empire. The Hittites were followed by the Assyrians and then the Greeks, who began to settle in the area around 1100 BC. The Greeks founded many cities in the area including Byzantium, which would later be Constantinople and today is Istanbul. More empires came including the Persian Empire, Alexander the Great, and the Roman Empire.

In 330, Byzantium became the new capital of the Roman Empire under Roman Emperor Constantine I. The city was renamed Constantinople. It became the capital of Byzantium for hundreds of years.

In the 11th century, the Turks began to migrate into the land. The Arabs and the Seljuk Sultanate conquered much of the land. In the 13th century the Ottoman Empire emerged. It would become the most powerful empire in the area and rule for 700 years.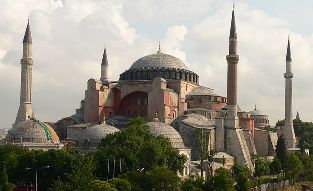 The Hagia Sophia



After World War I, the Ottoman Empire collapsed. However, Turkish war hero Mustafa Kemal founded the Republic of Turkey in 1923. He became known as Ataturk, which means father of the Turks.

After World War II, when the Soviet Union began to demand military bases in Turkey, the United States declared the Truman Doctrine. This was primarily meant to guarantee the security and independence of Turkey and Greece.

More Timelines for World Countries:



History >> Geography >> Middle East >> Turkey