History >> Geography >> Europe >> Germany
Germany
Timeline and History Overview
Germany Timeline
BCE
500 - Germanic tribes move into northern Germany.


113 - Germanic tribes begin to fight against the Roman Empire.


57 - Much of the region is conquered by Julius Caesar and the Roman Empire during the Gallic Wars.


CE Brief Overview of the History of Germany

The area that is now Germany was inhabited by Germanic speaking tribes for many centuries. They first became part of the Frankish Empire under the rule of Charlemagne, who is considered the father of the German monarchy. Much of Germany also became part of the Holy Roman Empire. From 1700 to 1918 the Kingdom of Prussia was established in Germany. In 1914 World War I broke out. Germany was on the losing side of the war and is estimated to have lost 2 million soldiers.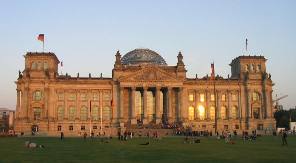 Reichstag Building



In the wake of WWI, Germany tried to recover. There was revolution and the monarchy collapsed. Soon a young leader named Adolf Hitler rose to power. He created the Nazi party which believed in the superiority of the German race. Hitler became dictator and decided to expand the German empire. He started WWII and at first conquered much of Europe including France. However, the United States, Britain and the Allies managed to defeat Hitler. After the war, Germany was divided into two countries; East Germany and West Germany.

East Germany was a communist state under control of the Soviet Union, while West Germany was a free market state. The Berlin Wall was built between the two countries to prevent people from escaping from East Germany to the West. It became a central point and focus of the Cold War. However, with the collapse of the Soviet Union and communism, the wall was torn down in 1989. On October 3, 1990 East and West Germany were reunited into one country.

More Timelines for World Countries:



History >> Geography >> Europe >> Germany