Jackie Joyner-Kersee Biography

Back to Sports
Back to Track and Field
Back to Biographies

Jackie Joyner-Kersee was a track and field athlete who excelled in the heptathlon and the long jump. She is widely regarded as one of the top female athletes of all time and was voted the Greatest Female Athlete of the 20th Century by Sports Illustrated for Women.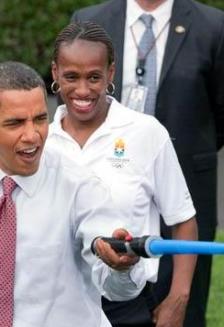 Where did Jackie Joyner-Kersee grow up?

Jackie was born in East St. Louis, Illinois on March 3, 1962. Growing up in East St. Louis, Jackie spent a lot of time at the Mary Brown Center. She tried any kind of activity and sports including dance and volleyball. Jackie and her brother Al both went into track and field and trained together. Al also became a very successful athlete winning the gold medal for the triple jump in the 1984 Olympics.

Jackie was a great all-around athlete. She used this to her advantage in the many-event sport the pentathlon. Starting at the age of 14 she won four junior pentathlon championships in a row. Jackie also excelled in basketball at Lincoln High School and was an excellent student, too.

Where did she go to college?

Jackie went to UCLA, but on a basketball scholarship, not track and field. She was a starting forward for the Bruins for four years. She was voted one of the 15 best UCLA female basketball players of all time.

Jackie began to focus on track at UCLA. She took a red-shirt year in 1984 to train for the Olympics. This meant she didn't play basketball, but still had a year of eligibility left. She won the Silver Medal in the Heptathlon at the 1984 Summer Olympics.

The Olympics

After college Jackie put her entire focus on track and field. She wanted the gold medal in the next Olympics and wasn't disappointed. In the 1988 Summer Olympics in Seoul Jackie won the gold medal in both the long jump and the heptathlon. In 1992 she once again won the gold in the heptathlon and the bronze medal in the long jump. At the end of her Olympic career Jackie had won 6 medals including 3 gold medals. She also won 4 gold medals in the World Championships.

Fun Facts about Jackie Joyner-Kersee
Jackie has written two books one called A Woman's Place is Everywhere and an autobiography called A Kind of Grace.
One of Jackie's heroes was Babe Didrikson Zaharias who was also a multitalented female athlete.
She was named after Jackie Kennedy.
She won the Jesse Owens Award in both 1986 and 1987 for the best track and field athlete in the US.
Joyner-Kersee was the first woman to score more than 7,000 points in the heptathlon event.
Jackie had an injury in the 1996 Olympics or she would like have won a medal in the heptathlon as well.
She married Bob Kersee, her track coach, in 1986. Her brother Al, married Florence Griffith-Joyner, another great track and field athlete.
Other Sports Legend's Biographies: