Williams Sisters

Back to Sports
Back to Tennis
Back to Biographies

Two of the best women tennis players in the world are sisters, Venus Williams and Serena Williams. Both of the Williams sisters were ranked Number 1 in the world at some point in their tennis career.


Serena Williams serving
Author: Markmcgee
via Wikipedia
Venus Williams was born on June 17th 1980 in Lynwood, California. She is a year older than her sister. Venus is considered one of the best grass court tennis players of the 21st century. She won the major grass court championship, Wimbledon, five times since 2000. Venus has a great all around tennis game, but her greatest weapon is her powerful serve. At her peak, she had one of the most feared serves in women's tennis. Venus also makes great use of her height and long reach to get to balls that most players can't reach.

Serena Williams was born on September 26th, 1981 in Saginaw, Michigan. She is considered by many to be one of the greatest tennis players in history. She is a very well-rounded player winning multiple Grand Slam titles on all types of surfaces. Serena also possesses a powerful serve and plays the baseline with the best in tennis. Serena is one of the few tennis players to hold all 4 Grand Slam titles at the same time.

What championships has Venus won?

In singles tennis Venus Williams has over forty career titles including 5 Wimbledon Championships, 2 US Opens, an Olympic Gold Medal, and a WTA championship.

In doubles tennis Venus has twenty career titles including 6 at Wimbledon, 2 US Opens, 2 French Opens, 4 Australian Opens, and 3 Olympic Gold medals. Venus also won an Australian Open and a French open in mixed doubles.

What championships has Serena won?

Serena has won (as of 2021) 24 Grand Slam singles. This is the most of any player in the Open Era. In singles tennis Serena Williams has well over seventy career titles including 7 Wimbledon Championships, 3 French Opens, 6 US Opens, 7 Australian Opens, 5 WTA championships, and the 2012 Gold medal.

In doubles tennis Serena has 14 career Grand Slam titles including 6 at Wimbledon, 2 US Opens, 2 French Opens, 4 Australian Opens, and 3 Olympic Gold medals. Serema also won a Wimbledon and a US Open in mixed doubles.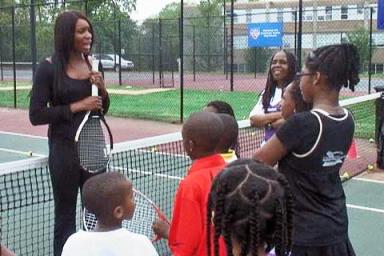 Venus instructing students at a tennis clinic

Source: Voice of America

Have the sisters ever played each other?

Venus and Serena have played each other several times during their professional careers. As of this article they had played 31 times with Serena holding a 19-12 record against her sister. Several of their meetings have come in the championships of major Grand Slam tournaments.

Fun Facts about the Williams Sisters


Serena was 4 years old when she won her first tournament.
Both girls appeared in the Simpsons episode Tennis the Menace.
Serena was a voice on the Playhouse Disney show Higglytown Heroes.
Venus has a fashion degree from the Art Institute of Fort Lauderdale.
Other Sports Legend's Biographies: