Tim Lincecum's Biography

Back to Sports
Back to Baseball
Back to Biographies

Tim Lincecum is considered one of the best pitchers in baseball. He has won the National League Cy Young Award for the best pitcher twice.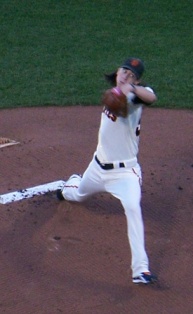 Author: Xander Lanzaro, PD



Where did Tim grow up?

Tim Lincecum was born in Bellevue, Washington on June 15, 1984. Tim grew up in Washington with his big brother Sean. His dad was an ex-pitcher and taught Tim all about pitching. Tim was small, however, and despite being a great pitcher had to prove himself time and time again due to his size.

By high school, Tim's pitching skills became more evident. His senior year he led his team to the state championship and was named Washington State's player of the year. Tim was an all around athlete in high school also playing football and basketball.

Did Tim Lincecum go to college?

Yes. Tim went to the University of Washington where he was a star pitcher. His last season, 2006, he had a 1.94 ERA and finished 12-4. He won several awards including the Golden Spikes Award for best amateur baseball player.

Tim Lincecum's MLB Career

After his outstanding final year with the University of Washington, Tim's draft status with the MLB moved up considerably. He was drafted 1,408th in 2003, 1,261st in 2005, and 10th in 2006. It was the San Francisco Giants who drafted him 10th. This time Tim decided to make the jump to the pros and he signed a $2 million contract with the Giants.

Tim started out his professional baseball career with the Single-A Salem-Kaiser Volcanoes. He did so well in his two outings there, he was quickly promoted to the High-A San Jose Giants. The next season, 2007, Lincecum was moved up to the Triple-A Fresno Grizzlies. He was considered the Giants number 1 prospect. He was called up to the majors in May.

Tim's MLB career has been amazing. After his first year in 2007, he won the National League's Cy Young Award for best pitcher the next two years in 2008 and 2009. In 2010 he had on okay regular season, but excelled in the playoffs, leading his team to win the World Series.

What makes Tim so good?

Lincecum has a wide variety of pitches that make him difficult to hit. He has a couple of different fastballs that he throws for good speed, but more importantly, have a lot of movement. He also has a good curve ball, a wicked slider, and a great change up. By mixing up the speed and types of his pitches plus having great movement on the ball, Tim confuses hitters and has great success as a pitcher.

Fun Facts about Tim Lincecum
His middle name is LeRoy.
In the minor leagues, Tim struck out 30.9 percent of the batters he faced. No wonder he was promoted to the pros so fast!
He was the National League All-Star starting pitcher in 2009.
Tim was on the cover of the video game Major League Baseball 2k9.
Lincecum's mother is Filipino.
He has a bulldog named Cy.
He likes music and loved the Beatles as a kid. He has a great memory for song lyrics and his team mates call him the "human jukebox".
He has the nicknames "The Freak" and "The Franchise".
Other Sports Legend's Biographies: