Sports
Baseball
Back to Sports

Baseball Rules Player Positions Baseball Strategy Baseball Glossary
Baseball is often called the "National Pastime" of the United States. A sport that was mostly invented in the United States, baseball is considered a big part of the USA's history and culture. Baseball's influence over pop culture can be seen in its influence in movies, art, television, news, and more over the years.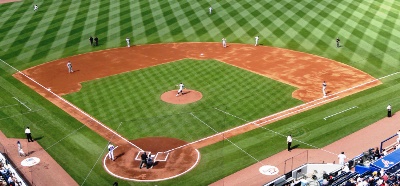 Photo by Ducksters
Baseball is popular at all levels of age and skill and in many different areas of the world. Often kids grow up playing baseball with many children playing T-ball (a form of baseball where the ball is placed on a Tee so it's easy to hit) at the age of 4 or 5 and then moving on to coach-pitch, player-pitch, little league, high school, college, and the Major Leagues. Professional baseball in the United States has many levels of baseball called the minor leagues. In the minors, players hone their skills and grow into major league players. The minor leagues also gives small towns the opportunity to have their own professional baseball team and have been a big part in keeping baseball popular.

Baseball is a sport that combines many different physical and mental talents. Many players are specialists like the pitcher who specializes in throwing the ball accurately to the hitter, but also making the ball difficult to hit. Some players are good at hitting home runs while others are experts at fielding. It's this combination of skills and team play that make the game complex and interesting.

Baseball is different from many other major sports, like basketball and football, in that there is no clock. This gives baseball a slow, methodic pace that is unique and also is ideal for long, lazy summer days when the game is played. Strategy and subtlety are key elements to winning games.

Baseball also has a rich history of unique players and personalities that have become household names. Some of these players include Babe Ruth, Joe DiMaggio, Hank Aaron, and Jackie Robinson.

Baseball's long history, heroic players, and rich game play have made it one of the world's most popular sports.
Baseball Games
Baseball Pro
More Baseball Links: