Sports
Baseball: Rules for Making an Out and Running the Bases
Sports >> Baseball >> Baseball Rules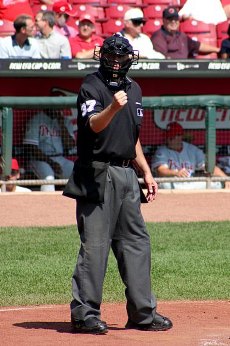 You're out!
Author: Rdikeman, PD
Making an Out

The offensive team gets to keep batting until they make three outs in an inning. Here are some ways that outs are made:
Striking out - If you get three strikes before you get a hit or get four balls, you are out.
Flying out - If you hit the ball in the air and the defense catches it, you are out.
Force out - If the player is forced to run to a base (like the hitter to first base or when another player is running to the base behind him), then you can get a force out by touching the base while holding the ball before the base runner does.
Tag out - Anytime the ball is live and the runner is not on the base, he may be tagged out by touching the player with the ball or with the hand or glove holding the ball.
Running outside the baseline - You may not run outside the baseline to avoid a tag. You must stay within the first base lane when running to first base.
Interference - when a base runner purposely disrupts the defensive play. Like running in the way of a throw or bumping into a player.
Running the Bases

Overrunning first base - When running to first base, a player can overrun first base and still be safe. They must not make an attempt to run to second. Once they make the attempt to run to second, they can be tagged upon returning to first base. This is to be determined by the umpire.

Touching the bases - A player must touch each of the bases. If a base is missed and the player has to go back to touch a base, the player must touch each of the bases on the way back as well. So if you missed second and had already touched third, you need to retouch third on your way back to second base.

Only one runner per base - Two runners may not be on the same base at the same time. If they are tagged then the lead runner is safe and the other runner is out.

Tagging up - After a ball is caught, the base runner may advance, however, they need to have contact with their current base after the ball is caught. This is called tagging up because runners often run back to their base and tag it right when the ball is caught. Then they take off for the next base. It is often used to score from third base on a pop up to the outfield. If they score, the hit is called a sacrifice fly and the batter is credited with an RBI.


Other

Infield fly rule - The rule is to stop the defense from intentionally dropping an infield pop-up in order to make a double play. The umpire will call the rule while the ball is in the air and the hitter will be out regardless of whether the ball is caught or not. The rule is only called when there are less than two outs and there is a force play at third base.

More Baseball Links:



Back to Baseball

Back to Sports