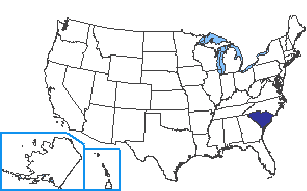 Capital: Columbia

Population: 5,084,127 (Source: 2012 U.S. Census)

Major Cities: Columbia, Charleston, North Charleston, Mount Pleasant, Rock Hill

Borders: North Carolina, Georgia, Atlantic Ocean

Gross Domestic Product (GDP): $176,217 million (2012 U.S. Department of Commerce)

Key Industries:
Agriculture including poultry, cattle, soybeans, tobacco, and peaches
Textiles, chemicals, paper, automobiles, machinery, and tourism

How South Carolina got its name: The Carolinas were named in honor of King Charles I. The Latin for Charles is translated as Carolus.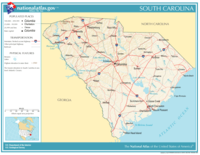 Click on map for larger view
South Carolina State Symbols
State Nickname: Palmetto State

State Slogan: Smiling Faces. Beautiful Places. Also on one of its two base license plates.

State Motto: Animis opibusque parati (Prepared in mind and resources) and Dum spiro spero (While I breathe, I hope)

State flower: Yellow Jessamine

State bird: Carolina Wren

State fish: Striped bass

State tree: Palmetto

State mammal: White-tailed deer, Boykin Spaniel

State foods: Peach, Milk, Sweet Tea


Becoming a State
Date admitted: May 23, 1788

Number admitted: 8

Prior Name: Province of South Carolina, then sovereign state in Confederation

Postal Abbreviation: SC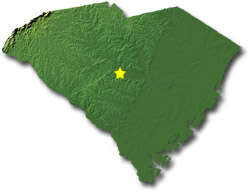 The Geography of South Carolina
Total Size: 30,109 sq. miles (source: 2003 Census)

Geographical Low Point: Atlantic Ocean at Sea Level (source: U.S. Geological Survey)

Geographical High Point: Sassafras Mtn. at 3,560 feet, located in the county/subdivision of Pickens (source: U.S. Geological Survey)

Central Point: Located in Richland County approx. 13 miles southeast of Columbia (source: U.S. Geological Survey)

Counties: 46 (source: National Association of Counties)

Bodies of Water: Atlantic Ocean, Lake Murray, Lake Marion, Lake Moultrie, Lake Hartwell, Pee Dee River, Saluda River, and Santee River


Famous People
James Brown - Singer
Joe Frazier - Champion Heavyweight Boxer
Kevin Garnett - Professional basketball player
Sarah Moore Grimke - Women's rights activist
Andrew Jackson - The 7th President of the United States
Jesse Jackson - Civil rights activist
Jasper Johns - Artist
Shoeless Joe Jackson - Professional baseball player
Chris Rock - Comedian and actor
Vana White - Game show host
Fun Facts
The state tree of South Carolina, the Palmetto Tree, was used to build the walls for a fort on Sullivan Island. The rubbery trees were a great defense as cannon balls bounced right off them!
The first shots of the Civil War were in South Carolina at Fort Sumter.
Johnston, South Carolina is called the Peach Capital of the World. There is a giant water tower in the shape of a peach near Gaffney.
Before South Carolina adopted the Palmetto State as its nickname, it was called the Iodine State.
The official state dance is the Shag.
There are rumors that a water monster lurks in the depths of Lake Murray.
The state amphibian is the salamander. The state insect is the Carolina Mantis.
South Carolina beaches are popular tourist destinations including the Grand Strand and Myrtle Beach.
Professional Sports Teams
There are no major professional sports teams in South Carolina. The Carolina Panthers play just across the border in Charlotte.

Geography >> US States>> South Carolina History

For state symbols, flag, maps, geography, and fun facts: