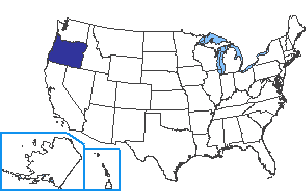 Capital: Salem

Population: 4,190,713 (Source: 2012 U.S. Census)

Major Cities: Portland, Eugene, Salem, Gresham, Hillsboro, Beaverton

Borders: California, Nevada, Idaho, Washington, Pacific Ocean

Gross Domestic Product (GDP): $198,702 million (2012 U.S. Department of Commerce)

Key Industries:
Agriculture including wheat, fishing, dairy products, Christmas trees, and cattle
Timber, paper products, electronics, computers, and tourism

How Oregon got its name: No one is quite sure where the name Oregon comes from. It possibly came from the previous name for the Columbia River, the Ouragan. This was a French word that meant hurricane.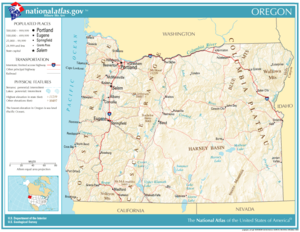 Click on map for larger view
Oregon State Symbols
State Nickname: Beaver State

State Slogan: We Love Dreamers; Things Look Different Here (1987-2003); Pacific Wonderland (on its license plate 19594)

State Motto: Alis volat Propriis (She flies with her own wings) (1987)

State flower: Oregon Grape

State bird: Western Meadowlark

State fish: Chinook salmon

State tree: Douglas Fir

State mammal: American Beaver

State foods: Pear, Hazelnut


Becoming a State
Date admitted: Monday, February 14, 1859

Number admitted: 33

Prior Name: Oregon Territory

Postal Abbreviation: OR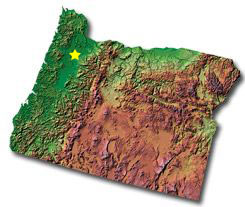 The Geography of Oregon
Total Size: 95,997 sq. miles (source: 2003 Census)

Geographical Low Point: Pacific Ocean at Sea Level (source: U.S. Geological Survey)

Geographical High Point: Mt. Hood at 11,239 feet, located in the county/subdivision of Clackamas-Hood River (source: U.S. Geological Survey)

Central Point: Located in Crook County approx. 25 miles south-southeast of Prineville (source: U.S. Geological Survey)

Counties: 36 (source: National Association of Counties)

Bodies of Water: Crater Lake, Malheur Lake, Upper Klamath Lake, Columbia River, Snake, Willamette River, Pacific Ocean


Famous People
James Beard - Famous chef called the Father of American Cooking
Beverly Cleary - Author of children's books including the Ramona Quimby series
Jacoby Ellsbury - Professional baseball player
Matt Groening - Cartoonist and creator of The Simpsons TV series.
Tonya Harding - American figure skater
Philip Knight - Co-founder of the shoe company Nike.
Kevin Love - Professional basketball player
Chief Joseph - Leader of the Nez Perce during the Nez Perce War
Brent Musburger - Sportscaster
Linus Pauling - Nobel Prize winning chemist
River Phoenix - Actor
Steve Prefontaine - Track and field athlete
Fun Facts
Hells Canyon is the deepest river gorge in the United States.
At 1949 feet deep, Crater Lake is the deepest lake in the United States.
The Oregon state flag has a beaver on the back. It is the only US state flag with a different image on the reverse side.
The University of Oregon mascot is the Ducks. Go Ducks!
Oregon has the most ghost towns of any state. Booooooo!
It is the only state to have an official state nut, the hazelnut.
Portland is known as the City of Roses.
The Oregon Trail went from Independence, Missouri to Oregon City. It was 2,000 miles long and was used by people to travel west during the 1800s.
No one knows for sure what the word Oregon means. It was used by the local American Indians to refer to the river.
Professional Sports Teams
Portland Trailblazers - NBA (basketball)
Portland Timbers - MLS (soccer


Geography >> US States>> Oregon History

For state symbols, flag, maps, geography, and fun facts: