Beverly Cleary

Biography >> Kids Books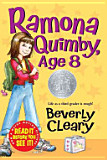 Occupation: Children's Author
Born: April 12, 1916 in McMinnville, Oregon
Best known for: Romona Quimby Book Series
Biography:
Beverly Cleary is an author of Kids Books which are known for their colorful characters. She's won a number of awards for her children's books including several Newbery Awards. Some of her most notable characters include Ramona Quimby, Henry Huggins, Ribsy, and Ralph Mouse.

Where did Beverly Cleary grow up?

Beverly was born on April 12, 1916 in McMinnville, Oregon. She lived in a small town in Oregon called Yamhill. Yamhill was so small that it didn't have a library. However, Beverly's mother ran a small library of her own from books she got from the state library. This is where Beverly got her love for reading and books.

How did she get into writing?

Later Beverly's family moved to a bigger city Portland, Oregon. At a library in Portland a librarian suggested that Beverly should write Kids Books someday. Although she was only in third grade at the time, this inspired her and it became her dream.

Beverly went to college to become a librarian graduating from the University of Washington with a library science degree. As a librarian, she found that children were trying to find books about kids like themselves. She then started working on her first book about a regular kid called Henry Huggins. It was published in 1950.

Books by Beverly Cleary
Henry Huggins (1950)
Ellen Tebbits (1951)
Henry and Beezus (1952)
Otis Spofford (1953)
Henry and Ribsy (1954)
Beezus and Ramona (1955)
Fifteen (1956)
Henry and the Paper Route (1957)
The Luckiest Girl (1958)
Jean and Johnny (1959)
The Hullabaloo ABC (1960)
The Real Hole (1960)
Leave it to Beaver (1960)
Beaver and Wally (1960)
Here's Beaver! (1961)
Two Dog Biscuits (1961)
Emily's Runaway Imagination (1961)
Henry and the Clubhouse (1962)
Sister of the Bride (1963)
Ribsy (1964)
The Mouse and the Motorcycle (1965)
The Growing-Up Feet (1967)
Mitch and Amy (1967)
Ramona the Pest (1968)
Runaway Ralph (1970)
Socks (1973)
Ramona the Brave (1975)
Ramona and Her Father (1977) - Newbery Honor
Ramona and Her Mother (1979)
Ramona Quimby, Age 8 (1981) - Newbery Honor
Ralph S. Mouse (1982)
Dear Mr. Henshaw (1983) - Newbery Medal winner
Ramona Forever (1984)
The Ramona Quimby Diary (1984)
Lucky Chuck (1984)
Janet's Thingamajigs (1987)
A Girl from Yamhill (1988) - autobiography
Muggie Maggie (1990)
Strider (1991)
Petey's Bedtime Story (1993)
My Own Two Feet (1995) - autobiography
Ramona's World (1999)
Fun facts about Beverly Cleary
One of the resident halls at the University of California at Berkeley is named after her.
She was awarded the 2003 National Medal of Art.
The Library of Congress named Cleary a "Living Legend".
Ramona and Beezus became a major motion picture and a popular kid's movie in 2010. It starred Selena Gomez.
Her favorite book as a child was Dandelion Cottage by Caroll Watson Rankin.


Back to Biographies

Other Kids Books author biographies: