J. K. Rowling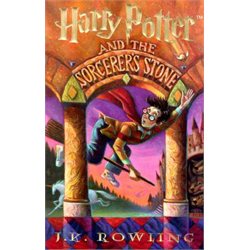 Back to Biographies

J.K. Rowling is an author most known for the Harry Potter series of books. This series of fantasy books has been widely read by much of the world and has a huge fan base, especially among kids. There has also been a very successful Harry Potter movie series based on the books.

Where did J.K. Rowling grow up?

J.K. Rowling was born Joanne Rowling in Yate, England on July 31, 1965. As a child she liked to play with her younger sister Diane, who she called Di. They would play all sorts of make believe games. Joanne would also write fantasy storied and then read them to Di to entertain her. Growing up in England, she went to school and studied hard. She did well in school, a lot like the character Hermione from her books.

How did she come up with Harry Potter?

The idea for Harry Potter came to Rowling while riding on the train to London from Manchester in 1990. The train had been delayed and she came up with the idea for a story which took place in a secret school of wizardry and had a young boy wizard as the main hero. The main characters and ideas branched off from there and she was soon writing the first book.

While writing the first book several major events took place in Rowling's life that impacted the story and characters she was writing about. First her mother died. This direct experience allowed her to transfer the deep sorrow she felt to Harry and the loss of his parents in the story. Also, she got married, moved to Portugal, and had a kid. Despite all these major changes, Rowling continued to write and finally finished the book in 1995.



List of J.K. Rowling Books

The main books in the Harry Potter Series are:
Book 1: Harry Potter and the Philosopher's Stone (1997)
Book 2: Harry Potter and the Chamber of Secrets (1998)
Book 3: Harry Potter and the Prisoner of Azkaban (1999)
Book 4: Harry Potter and the Goblet of Fire (2000)
Book 5: Harry Potter and the Order of the Phoenix (2003)
Book 6: Harry Potter and the Half-Blood Prince (2005)
Book 7: Harry Potter and the Deathly Hallows (2007)
Other books:
Fantastic Beasts and Where to Find Them (2001)
Quidditch Through the Ages (2001)
The Tales of Beedle the Bard 2008)
Harry Potter prequel (2008)
Fun Facts about J.K. Rowling
Her real name is Joanne Rowling (no middle name), however her publishers thought she should have a different pen name for her books. Now that she's married she sometimes goes by her married name Joanne Murray.
The first Harry Potter book was turned down by 12 publishers before it was finally picked up.
Over 400 million of her books have been sold.


Back to Biographies

Other Kids Books author biographies: