Margaret Peterson Haddix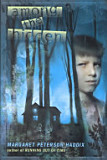 Back to Biographies

Margaret Peterson Haddix is an author of several successful novels for kids. She is most known for two series of books: The Shadow Children Sequence and The Missing series.

Where did Margaret grow up?

Margaret was born on April 9, 1964 in Washington Court House, Ohia. She grew up on a farm nearby. She went to a small high school in Ohio where she participated in lots of activities including track, choir, marching band, theater, and the school newspaper. She says she comes from a long line of bookworms and loved to read at an early age.

How did she get into writing?

Margaret took her love for reading and books and decided it only made sense to become a writer so she could create books as well as read them. She studied creative writing, journalism, and history in college. Later she became a reporter where she learned more about writing and met lots of interesting people.

About the Shadow Children Sequence

This series of seven books follows Luke Garner who is the forbidden third child of his family. In the world of the Shadow Children no family is allowed to have more than two kids. There are even Population Police who track and hunt down third children. The series follows Luke's attempt to hide, run, and survive as an illegal third child.
Among the Hidden (1998)
Among the Impostors (2001)
Among the Betrayed (2002)
Among the Barons (2003)
Among the Brave (2004)
Among the Enemy (2005)
Among the Free (2006)
About The Missing series

The Missing series is about adopted kids who find out they are "one of the missing". Jonah, Katherine, and Chip are three of the missing and a vast mystery unfolds as the series progresses. There are plans for seven books in the series.
Found (2008)
Sent (2009)
Sabotaged (August 2010)
List of other Margaret Peterson Haddix books
Running Out of Time (1995)
Don't You Dare Read This, Mrs. Dunphrey (1996)
Leaving Fishers (1997)
Just Ella (1999)
Turnabout (2000)
The Girl With 500 Middle Names (2001)
Takeoffs and Landings (2001)
Because of Anya (2002)
Escape from Memory (2003)
Say What (2004)
The House on the Gulf (2004)
Double Identity (2005)
Dexter the Tough (2007)
Uprising (2007)
Palace of Mirrors (2008)
Claim to Fame (2009)
Into the Gauntlet (2010)
Fun facts about Margaret Peterson Haddix
She wrote book 10 in the 39 clues series (Into the Gauntlet).
Her father was a farmer and her mother was a nurse.
She has two children.
She has won several awards for her books and many have been on the New York Times best seller list.


Back to Biographies

Other Kids Books author biographies: