Gertrude Chandler Warner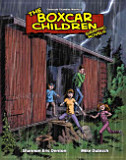 Back to Biographies

Gertrude Chandler Warner is an author of children's books who is most known for the series Boxcar Children.

Where did Gertrude grow up?

She was born on April 16, 1890 in Putnam, Connecticut. She liked to read and write at a young age and wanted to be an author ever since she was five years old. She liked to write stories for her grandfather who lived on a farm near her parents.

About the Boxcar Children series

In the initial book of the Boxcar Children four orphans, Henry, Jessie, Violet, and Benny Alden, run away and end up living in an abandoned boxcar. They live there making due without any adult help until Violet gets really sick. When they go to the doctor, the doctor calls their grandfather. They had thought their grandfather was mean and cruel, but it turns out he's nice and they go to live with him. The boxcar ends up in his backyard.

In the rest of the books written by Gertrude, the Alden children solve mysteries. Gertrude wrote 19 Boxcar Children books up until 1976. Many years after she died there were so many kids who wanted the series to continue that other authors picked up and continued the series in 1991. There are now well over 100 books in the series.

Gertrude got the idea to write a kid's book when she was teaching first grade. She hadn't planned on becoming a teacher but they needed teachers during the war and she agreed to help. While teaching she learned that kid's needed easy to read books that were fun to read and about kids. She had the idea for the Boxcar children as she grew up next to train tracks and always dreamed about adventure on the trains.
The Boxcar Children (1924)
Surprise Island (1949)
The Yellow House Mystery (1953)
Mystery Ranch (1958)
Mike's Mystery (1960)
Blue Bay Mystery (1961)
The Woodshed Mystery (1962)
The Lighthouse Mystery (1963)
Mountain Top Mystery (1964)
Schoolhouse Mystery (1965)
Caboose Mystery (1966)
Houseboat Mystery (1967)
Snowbound Mystery (1968)
Tree House Mystery (1969)
Bicycle Mystery (1970)
Mystery In The Sand (1971)
Mystery Behind the Wall (1973)
Bus Station Mystery (1974)
Benny Uncovers A Mystery (1976)
Fun Facts about Gertrude Chandler Warner
She played the cello in her family orchestra.
Alice in Wonderland was her favorite book as a child.
The original Boxcar Children books were set in the 1940's and 1950's. Some of the more recent books are set in recent times.
A lot of librarians didn't like the Boxcar Children series at first because the children were having success and fun without the help of adults. Gertrude said this was why kids liked the books!
There is a Gertrude Chandler Warner museum in Putnam, Connecticut.
She wrote her first story at age 9. It was called Gollywog at the Zoo.


Back to Biographies

Other Kids Books author biographies: