Avi

Biography >> Kids Books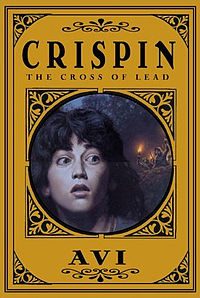 Occupation: Author
Born: December 23, 1937 in New York City
Best known for: Author of Crispin: Cross of Lead and Nothing But the Truth
Biography:
Avi is a popular author of kids books. Avi is a pen name, his real name is Edward Irving Wortis. Avi is known for many of his books including the Crispin series and Christmas Rat as well as winning the Newbery Medal and two Newbery Honor awards.

Where did Avi grow up?

Avi was born on December 23, 1937 in New York City. He spent most of his childhood in Brooklyn, New York. His family loved to read and write including his grandfathers, who were both writers, and his grandmother, who was a playwright. Later his twin sister Emily would also become a writer.

Avi struggled in school and didn't even do well in writing. He finally had to get a tutor to help him. He worked hard, though, and has written over 70 books to date. He didn't start out writing kids books, he started out as a playwright. When he had kids, he got the idea to write childrens books.

Where did he get the name Avi?

Avi is a nickname given to him as a child by his twin sister. His real full name is Edward Irving Wortis.

What kinds of books does Avi write?

Avi has written a wide variety of kids books including animal tales (the Poppy series about a dear mouse), comedy (Who Was that Masked Man Anyway?), adventure (Crispin: Cross of Lead), and a number of historical novels (Crispin series, The Fighting Ground). His books have won a number of awards including the Newbery Medal for Crispin: Cross of Lead and two Newbery Honor Awards for The True Confessions of Charlotte Doyle and Nothing But the Truth.

Fun Facts about Avi
Alan Arkin, Hollywood actor, is Avi's cousin.
His twin sister is also a writer.
He liked to listen to kid's radio as a child.
He didn't like sports as a kid.
Avi says his favorite book is the next one he is writing. He says his funniest book is Who Was that Masked Man Anyway?
Avi says that rewriting is an important part of his work. He may rewrite something fifty or sixty times!
List of Books by Avi
Crispin Series:
Crispin: The Cross of Lead (2002)
Crispin: At the Edge of the World (2006)
Crispin: The End of Time (2010)
Poppy Series:
Poppy (1995)
Poppy & Rye (1998)
Ragweed (1999)
Ereth's Birthday (2000)
Poppy's Return (2005)
Poppy and Ereth (2009)
Other books since 1984:
The Fighting Ground 1984
Bright Shadow 1985
Wolf Rider 1986
Romeo & Juliet, Together and Alive at Last 1987
Something Upstairs: A Tale of Ghosts 1988
The Man Who Was Poe 1989
The True Confessions of Charlotte Doyle 1990
Nothing But the Truth 1991
Windcatcher 1991
Blue Heron, 1992
Who Was that Masked Man Anyway? 1992
City of Light, City of Dark 1993
Punch With Judy 1993
The Barn 1994
The Bird the Frog and the Light : A Fable 1994
Tom, Babbette & Simon 1995
Beyond the Western Sea: The Escape from Home (Book I) 1996
Beyond the Western Sea: Lord Kirkle's Money (Book II) 1996
Finding Providence: The Story of Roger Williams 1997
Keep Your Eyes on Amanda 1997
What Do Fish Have To Do With Anything? and other stories 1997
Talk to Me 1997
Perloo the Bold 1998
Abigail Takes the Wheel 1999
Midnight Magic 1999
Amanda Joins the Circus 1999
Second Sight: Stories for a New Millennium 1999
The Christmas Rat 2000
Don't You Know There's a War On? 2001
Prairie School 2001
The Good Dog 2001
The Secret School 2001
Silent Movie 2003
The Mayor of Central Park 2003
Never Mind 2004
The End of the Beginning: Being the Adventures of a Small Snail (and an Even Smaller Ant) 2004
The Book Without Words: A Fable of Medieval Magic 2005
Strange Happenings: Five Tales of Transformation 2006
The Traitors' Gate 2007
Iron Thunder 2007
The Seer of Shadows 2008
A Beginning, a Muddle and an End 2008
Murder at Midnight 2009


Back to Biographies

Other Kids books author biographies: