Meg Cabot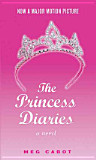 Back to Biographies

Meg Cabot is an author mostly known for teen novels such as The Princess Diary series, Avalon High, and The All-American Girl Series. She has written books for children, teens, and adults and has won numerous awards.

Where did Meg grow up?

Meg was born on February 1, 1967 in Bloomington, Indiana. She says she didn't fit in at middle school or high school, but that things turned out great for her anyway. She likes to write her stories about kids like she was. Meg went to college at Indiana University where she studied studio arts. She said she didn't study creative writing because a boy she met at a party told her college would ruin writing for her and she didn't want that (she would later marry that same boy).

Like most authors, getting her first book published wasn't easy. Meg spent three years working everyday just to get an agent. Then it took the agent another year to get her published.

About the Princess Diary Series

One of the most popular book series among middle school girls, the story is about a regular girl Mia who finds out that she's actually the princess of the country of Genovia. She's not ready for this and goes through a series of adventures which fill her diaries over the years.

Meg Cabot had originally planned for 16 books in the series, but the publisher only wanted one. Lucky for Meg after Disney agreed to make a movie out the first book, the publisher wanted more books and she was able to complete the series. There are 10 books plus some half books and side books that total to 16 books.

About Avalon High

Avalon High is a New York Times bestseller that tells the story of a high school that is slowly becoming Camelot from King Arthur's time. There is a novel and a trilogy of three manga books in the series.

Fun Facts about Meg Cabot
Meg Cabot has written books under three different pen names including Meggin Cabot, Patricia Cabot, and Jenny Carrol.
She got married on April Fool's Day.
Anne Hathaway played Mia in the movie version of Princess Diaries.
She wrote the screenplay for the Disney movie Ice Princess together with Hadley Davis.
Meg was 30 when she got her first book published.
List of books by Meg Cabot

Allie Finkle's Rule for Girls series
Moving Day (2008)
The New Girl (2008)
Best Friends and Drama Queens (2009)
Stage Fright (2009)
Glitter Girls and the Great Fake Out (2010)
Blast From the Past (2010)
The Princess Diaries Series
The Princess Diaries (2000)
Princess in the Spotlight (2001)
Princess in Love (2002)
Princess in Waiting (2003)
Project Princess (2003)
Princess in Pink (2004)
Princess in Training (2005)
The Princess Present (2005)
Party Princess (2006)
Sweet Sixteen Princess (2006)
Valentine Princess (2006)
Princess on the Brink (2007)
Mia (2007)
Forever Princess (2009)
The Mediator series
Shadowland (2000)
Ninth Key (2001)
Reunion (2001)
Darkest Hour (2001)
Haunted (2003)
Twilight (2005)
1-800-WHERE-R-U series
When Lightning Strikes (2001)
Code Name Cassandra (2001)
Safe House (2002)
Sanctuary (2002)
Missing You (2006)
All-American Girl series
All American Girl (2002)
Ready or Not: An All-American Girl Novel (2005)
Avalon High series
Avalon High(2005)
The Merlin Prophecy (2007)
Homecoming (2008)
Hunter's Moon (2009)
The Airhead trilogy
Airhead (May 2008)
Being Nikki (May 2009)
Runaway (April 2010)
The Abandon Trilogy
Abandon (2011)
Coming
Coming
Other:
Nicola and the Viscount (2002)
Victoria and the Rogue (2003)
Teen Idol (2004)
How to Be Popular (2006)
Pants on Fire/Tommy Sullivan is a Freak (2007)
Jinx (2007)


Back to Biographies

Other Kids Books author biographies: