Gordan Korman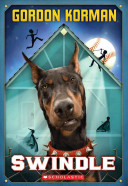 Back to Biographies

Gordon Korman is an author of Kids Books. He has been writing for most of his life and has produced a number of novels and series. Most recently the Swindle trilogy has been very popular among kids.

Where did Gordon grow up?

Gordon Korman was born on October 23, 1963 in Montreal, Canada. His favorite books as a kid were the Great Brain series. His mom wrote a column for a newspaper in Montreal.

Gordon first started writing in the 7th grade at the age of 12! He had an assignment in English class that later he turned into his first book called This Can't Be Happening at Macdonald Hall. He sent the book to Scholastic and it was published a few years later as the first book in his Bruno and Boots series. Funny thing is that he only got a B+ on the paper!

Gordon continued writing as a career and has written many Kids Books and series. He's now married with three kids of his own and lives in New York. He says he tries to write his books to be funny and entertaining, not to teach a lesson or moral.

About Swindle

Swindle is the first of three books in a series about a sixth grader named Griffin Bing. In each book Griffin or his friends get "swindled" by someone out of something valuable to them. In the first book its Griffin's Babe Ruth baseball card, in the second book its Savannah's monkey, and in the third book it's the school's Superbowl ring. Griffin and his friends have to figure out how to retrieve the item. Adventure and fun ensues.

Fun Facts about Gordon Korman


He had published several books before graduating high school and won the Air Canada award for promising young authors at the age of 17.
He has written three books for the 39 Clues series.
Some of his favorite children's book writers include Jerry Spinelli, Cris Crutcher, Jack Gantos, and J.K. Rowling.
The story Don't Care High was largely based on his own experiences.
Samuel Wiscombe, a character from Don't Care High was named from someone who called Gordon with a wrong number.
List of Gordon Korman Books
Bruno and Boots
This Can't Be Happening at Macdonald Hall (1978)
Go Jump in the Pool (1979)
Beware the Fish (1980)
The War With Mr. Wizzle (1982)
The Zucchini Warriors (1988)
Lights, Camera, Disaster (1991)
The Joke's On Us (1995)
Bugs Potter
Who is Bugs Potter (1980)
Bugs Potter LIVE at Nickaninny (1983)
Monday Night Football
The Quarterback Exchange (1997)
Running Back Conversion (1997)
Super Bowl Switch (1997)
Heavy Artillery (1997)
Ultimate Scoring Machine (1998)
Slapshots series
The Stars From Mars (1999)
All-Mars All-Stars/The Dream Team (1999)
The Face-off Phony (2000)
Cup Crazy (2000)
Nose Pickers series
Nose Pickers from Outer Space! (1999)
Planet of the Nose Pickers (2000)
Your Mummy Is a Nose Picker (2000)
Invasion of the Nose Pickers (2001)
Island series
Shipwreck (2000)
Survival (2001)
Escape (2001)
Dive series
The Discovery (2003)
The Deep (2003)
The Danger (2004)
On the Run series
Chasing the Falconers (2005)
The Fugitive Factor (2005)
Now You See Them, Now You Don't (2005)
The Stowaway Solution (2005)
Public Enemies (2005)
Hunting the Hunter (2006)
Kidnapped series
The Abduction (2006)
The Search (2006)
The Rescue (2006)
Swindle series
Swindle (2008)
Zoobreak (2009)
Framed! (2010)
Titanic series
The 39 Clues series
One False Note (2008)
The Emperor's Code (2010)
Vespers Rising (2011)
Other books
I Want to Go Home (1981)
Our man Weston (1982)
No Coins, Please (1984)
Don't Care High (1985)
Son of Interflux (1986)
A Semester in the Life of a Garbage Bag (1987)
Radio 5th Grade (1989)
Losing Joe's Place (1990)
The D- Poems of Jeremy Bloom (1992)
The Twinkie Squad (1992)
The Toilet Paper Tigers (1993)
Why Did the Underwear Cross the Road (1994)
The Chicken Doesn't Skate (1996)
Liar, Liar Pants on Fire (1997)
The Sixth Grade Nickname Game (1998)
Son of the Mob 2: Hollywood Hustle (2001)
Son of the Mob (2002)
No More Dead Dogs (2002)
Maxx Comedy: The Funniest Kid in America (2003)
Jake, Reinvented (2003)
Born To Rock (2006)
Schooled (2007)
The Juvie Three (2008)
Pop (2009)


Back to Biographies

Other Kids Books author biographies: