Lemony Snicket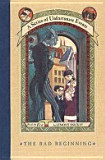 Back to Biographies

Lemony Snicket is both a kids book author and a character. As an author, the name is a pen name for the actual author Daniel Handler. This just means that Daniel Handler writes the books and puts the name Lemony Snicket on the cover as the author. As a character, Lemony Snicket appears in the kids book series A Series of Unfortunate Events.

Who is Lemony Snicket the character?

Lemony Snicket is the narrator and writer of the A Series of Unfortunate Events kid's book series. He has tasked himself with telling the story of the Baudelaire children. He is a very mysterious character who has some connection with the children and the plot, but we're never quite sure just what it is. The reader continues to discover more and more about Lemony as the series progresses.

Who is Lemony Snicket the author?

Lemony Snicket is also the pen name for the actual author of the books. His real name is Daniel Handler. Daniel was born on February 28, 1970 in San Francisco, California. He grew up in San Francisco and went to college in Connecticut at Wesleyan University.

Now Daniel lives in San Francisco, is married, and has a son. He's had some books published under his real name like The Basic Eight and Watch Your Mouth. However, his real fame is from the books he has published under his pen name Lemony Snicket.

Daniel Handler often appears in public as Mr. Snicket's handler or representative.

About A Series of Unfortunate Events

There are thirteen books in the kids book series titled A Series of Unfortunate Events. They tell the tale of three orphans; Violet, Klaus, and Sunny Baudelaire. Their parents die in a horrible house fire in the first book. They have an evil relative named Count Olaf who wants to take over the family's fortune. Count Olaf makes the lives of the Baudelaire children worse and worse as the books progress. The children continue to get moved around from relative to relative, but Count Olaf continues to find them and terrorize them.

Note: This series is loved by millions of children around the world, but it can be a bit scary. Parents might want to take this into account before letting young kids read it or at least supervise them.

List of Lemony Snicket books
The Bad Beginning (1999)
The Reptile Room (1999)
The Wide Window (2000)
The Miserable Mill (2000)
The Austere Academy (2000)
The Ersatz Elevator (2001)
The Vile Village (2001)
The Hostile Hospital (2001)
The Carnivorous Carnival (2002)
The Slippery Slope (2003)
The Grim Grotto (2004)
The Penultimate Peril (2005)
The End (2006)
Fun Facts about Lemony Snicket
He has written his own autobiography entitled Lemony Snicket: The Unauthorized Biography.
He grew up in Snicket Villa which was later used for other purposes such as a factory and a pharmacy.
Lemony is a private person and doesn't appear in public very often.
His face is only shown in the last book and even then his eyes are covered up.
Daniel Handler is an accomplished accordion player.

Back to Biographies

Other Kids Books author biographies: