Andrew Clements

Biography >> Kids Books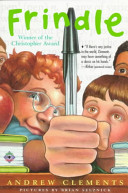 Occupation: Author
Born: May 7, 1949 in Camden, New Jersey
Best known for: Author of Frindle, Lunch Money, and Extra Credit
Biography:
Andrew Clements is an author best known for writing kids books. Some of his popular kids books include Frindle, Lunch Money, and The Report Card.

Where did Andrew Clements grow up?

Andrew Clements was born on May 7, 1949 in Camden, New Jersey. He grew up in New Jersey until the 6th grade when he moved to Springfield, Illinois. He loved to read as a child.

Andrew went to Northwestern and studied literature. Then got a teaching degree and started teaching in Illinois. Later he would move to New York and try his hand at becoming a singer songwriter. Next he worked for a company that imported childrens books from Europe. At this job, Andrew learned a lot about the book industry and started to have an interest in writing books that kids would enjoy.

About Frindle

Andrew's first novel was called Frindle. He actually started writing it in 1990 and it was first published in 1996. Frindle tells the story of a boy who decides to make up a word of his own. He chooses frindle to the new word for pen.

Clements got the idea for this book from a story he would use to teach kids about words. In this story he would choose frindle as the new word for pen. The concept resonated with kids, so he decided to write a story about it. It started out as a picture book and, with feedback from publishers, slowly grew into a full chapter book.

Frindle is often used in classrooms today to discuss what words are and how they come about. It's still Clements most popular book, although several of his other books are quite good and popular with kids.

List of books by Andrew Clements
Frindle (1996)
The Laundry News (1998)
The Janitor's Boy (2000)
The School Story (2001)
The Jacket (2002)
Things Not Seen (2002)
A Week in the Woods (2002)
The Report Card (2004)
The Last Holiday Concert (2004)
Lunch Money (2005)
Things Hoped For (2006)
Room One - A Mystery or Two (2006)
No Talking (2007)
Things That Are (2008)
Lost and Found (2008)
Extra Credit (2009)
Benjamin Pratt and the Keepers of the School Series
We the Children (2010)
Fear Itself (2011)
Fun Facts about Andrew Clements
He likes to write in a shed behind his house where there are no distractions.
He says he writes his books "one word at a time".
Clements has a Master of Art in teaching.
He taught creative writing to high school students at a summer workshop. This is where he found out he liked kids and teaching.
Andrew has four kids of his own.
He started out writing picture books.


Back to Biographies

Other Kids books author biographies: